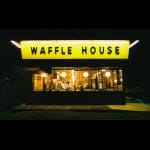 A Crowdsourced Logistics concept is a concept that engages the public (companies and private persons alike) to seek excess capacity in existing modes of transport, storage space, and/or time. This can be a private vehicle, but also a taxi, (delivery) van, or truck. A lot is happening in the Crowdsourced Logistics Arena, with start-ups like Uber (UberCARGO), Easy Van, Lalamove, and Sidecar. And now there is yet another start-up that has joined the ranks: Roadie.
Where earlier start-ups have mainly been focusing on professional drivers and entrepreneurial private persons, Roadie's services seem to be aimed mainly at private persons. It has dubbed its service the "Neighbor-to-neighbor Shipping Network". As founder Marc Gorlin told the Wall Street Journal, their setup is "…utilizing all these cars that are already going somewhere." In that sense it is more like Crowdsourced Logistics concept PiggyBee, which utilizes traveler's excess baggage space.
How Does Roadie Work
The Roadie website describes how the service works: You book a shipment, which Roadie calls a gig, by entering details on the shipment, including pictures. Roadie then matches that shipment with roadies going in that direction. What seems strange to me, is that you first select a Roadie, and then schedule a time. I would think delivery time has an impact on which Roadie matches with the shipment, but maybe the scheduling is more about working out the details with the Roadie. Anyway, a Roadie selects a shipment they would like to deliver, and the Sender then has to accept the Roadie as well, creating a double acceptance. You then hand over the shipment to the roadie and track it until it's delivered. All this in an app of course.
The Social Approach
Roadie takes a slightly different approach than the likes of UberCARGO, Easy Van etc. Their tagline already says it: "Neighbor to Neighbor". As you can read on their website:
Yes, we deliver local and long haul; same day, next day and even on weekends. And yes, we like to think we're doing a lot to help the environment, since most of the time, our Roadie drivers are already going that way. But what really makes us different is that they don't work for us. They work for you. They're people right in your neighborhood. Neighborly people. Driving on the same streets you do. With a few extra minutes and extra room to give your stuff a lift.
Roadie takes the social road (pun intended) in two ways. They make it social in the sense that they say they are about connecting people and increasing engagement in your neighborhood. On the other hand they make it about social responsibility, as you will be using space in a car already going somewhere, whereas with the other start-ups mentioned you hire someone to go deliver something that didn't plan to go there.
UPS wants in on neighbor-to-neighbor shipping
According to an article on wsj.com earlier this week, Roadie landed a total inital investment of over 10 million dollars. UPS is among this group of investors:
UPS said that it made the investment via its Strategic Enterprise Fund, which invests in startup companies redefining logistics ranging from e-commerce to health care to aerospace. "Startups provide opportunities to rapidly learn about a broader landscape of business models without distracting internal [research and development] resources," said Rimas Kapeskas, managing director of the fund, in an email. An investment like Roadie can "improve the corporation's ability to be proactive to technology advances and market shifts."
Roadie has more of a consumer to consumer (CtoC) or peer to peer, than a business to consumer (BtoC) approach. That makes them different from main stream carriers like UPS and FedEx, who are more about B2C and B2B shipping.
But what about the waffles?
"We are not in the food business… We are in the People business."
This is the first line you see when you visit the history page of Waffle House. In that sense they match with Roadie, who say "Let's get back to being neighbors" and with that are in the People business as well. Waffle House is opening up their 1750 restaurants as meeting points for Roadies do pick up or deliver shipments. Next to the fact that they are open 24/7, they provide a neutral territory for a meeting.
It will be interesting to see if Roadie makes it. Many have tried and will still try to enter this marketplace. I believe that the concept of crowdsourced logistics and crowdsourced delivery is a viable concept and there is a sustainable place in the logistics arena for companies like Roadie. Time will tell.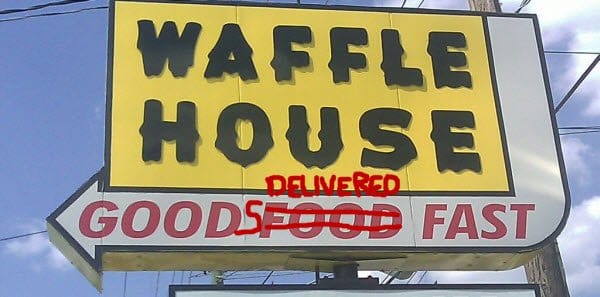 Ok, maybe not Fast, but still… 🙂