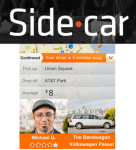 Last month I wrote about the Uberization of Logistics; A Crowdsourced Logistics model where (almost) anybody with a decent car can join the ranks of drivers. These types of services have been deployed for transporting People (Uber, Sidecar, Lyft) and transporting Goods / Packages (Postmates, Lalamove, Gogovan). Each has some form of vetting and maybe minimum requirements for type and make of vehicle, but none of the drivers are employees. Uber has already moved in to the logistics arena with the launch of their UberCARGO app. 
Ride-haling service Sidecar today announced that they not only will move into the Logistics arena, but also that they will combine that with transporting people from A to B. The new service is called Sidecar Deliveries. How does it work? Have a look at the diagram below (courtesy of Sidecar).
It looks similar to how Uber works, but it isn't. The first difference is that with Sidecar the same driver picks up both people and packages. The second difference is, that when the driver gets hailed for either a 'people' or a 'package' pickup he will know where he is going. Sidecar asks that you type in the destination when you request your pickup. For goods this the regular process, but for people it is a unique requirement compared to the other ride-haling services, where the focus is on where you are and not on where you are going. Sidecar combines this information, which makes it possible to optimize delivery routes and route drivers more efficiently.
The idea for combining people and packages comes from a group San Fransisco based users who 'hacked' the service, according to an Oct 2013 article on siliconbeat. It was an accident.
"Some Sidecar customers have decided the ridesharing company would also make for a pretty convenient delivery service, and have hacked the San Francisco-based ride app to turn it into a personal courier, Sidecar Founder and CEO Sunil Paul said Friday at the Shared-Use Mobility Summit in San Francisco. Through the hack, he said, customers will enter their favorite pizza restaurant as the passenger pick up location, and then request the Sidecar driver pick up a large cheese pie and deliver it to their house."
If it was an accident, it was an accident waiting to happen. And a good one at that!
Sidecar Investor Fred Wilson writes on his blog about the advantages for all parties involved:
"Combining people plus packages is a win/win/win. Riders get even lower prices for their rides. Drivers make more money (up to 75% more in the San Francisco trial). And ecommerce companies get a less costly and faster way to get their products delivered same day (or even same hour)."
Sidecar has been testing the service in San Fransisco for 6 months and is now rolling it out across their US markets. During the trial period the people + packages reached 10 percent of total ride volume. They have an API which e-commerce companies can integrate in their existing apps, so users can select Sidecar as a delivery option and follow their delivery in real time.
There will be some challenges ahead. Police are used to seeing DHL, UPS, and FedEx vans temporarily double parked for a quick delivery, and they still write out a lot of tickets. Although I think there is much more leniency towards these delivery vans, than toward private cars (which Sidecar vehicles are). I've read somewhere that the big parcel companies go back to cities with parking tickets and get them turned around, so am curious to see how Sidecar will handle that.
Another challenge could be training and ensuring a good consumer experience. This is a point that Adrian Gonzalez keeps making. Will a Crowdsourced driver give the same quality of service and 'feel' that the UPS guy does. Sidecar vets and trains their drivers,  and they have a grading option for the consumer; they can give a bad rating to the driver if they had a bad experience. Based on these ratings Sidecar can weed out the bad drivers. Still this is something to keep an eye on.
As I'm based in Europe, and the Sidecar service is not (yet?) available here, I can't give you a review of the service. As soon as / if they launch in the Netherlands, I will!