In June of 2012, I first wrote a blog post about Location-Based Logistics, in which I argued that in the future, parcels would no longer be delivered to addresses (Ship-to Address) but to persons (Ship-to Person) where-ever that person is or will be. We would need to trust the parcel carrier with the knowledge of our location and plans for our day, as they need to route packages to where you are or will be on a certain day, at a certain time. For this to be successful, the shipper's systems and distribution network need to be flexible enough to cope with changes in the Ship-to Person's routines.
New Patent for Amazon
A new patent that was granted to Amazon last month has the potential to grow into a Ship-to Person system. The patent describes a system dubbed 'Anticipatory shipping':
…packaging one or more items as a package for eventual shipment to a delivery address, selecting a destination geographical area to which to ship the package and ship the package to the destination geographical area without completely specifying the delivery address at the time of shipment. The method may further include completely specifying the package's delivery address while the package is in transit.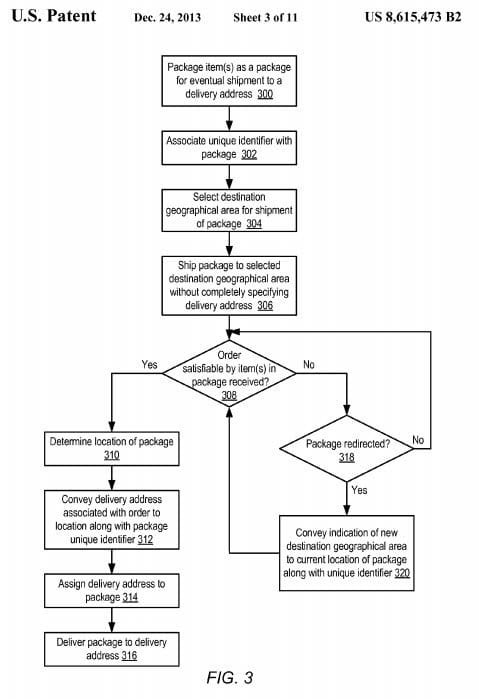 How will Amazon determine what you want? By analyzing things like your past purchase history, favourites, items on your wish list, and browsing behaviour.
I Want it NOW
Amazon is trying to solve one of the issues consumers may have with shopping online versus shopping in a brick and mortar store: immediate product availability. The method outlined above will probably work best with high demand items, like bestselling books or albums, making the chance that somebody orders it high. It would also work well for new releases in a series, of which you have already bought all previous releases.
Either way, the product will be closer to the end customer, waiting at a carrier hub, or travelling around in a carrier vehicle, waiting to receive their final destination. Amazon needs to wait for the order to drop, or they might convince somebody in that general area to make the purchase by giving them a discount with the promise of same-day delivery. In the end, it's about making the customer happy and making sure they return for more. I think the system will sooner use the system to speed up delivery than actually have a parcel arrive at your door without you actually ordering it.
Predictability
As Amazon's ability to predict demand and ship products closer to its customers will grow, it's accuracy for getting the right product to the right person will grow as well. For the ultimate 'Ship-to Person' system, Amazon would need to take this one step further: not only getting me an item that I am about to purchase but getting it to me wherever I am.
As with Amazon's drones idea, it is easy to attack it and say why it will not work. I find it much more interesting to think about why it would work and how logistics and our lives, in general, could get better because of it.