You've ordered new shoes, a book, an appliance, so now you want to wear it, read it, or use it! Most e-tailers guarantee delivery the next day, if ordered before a certain time (which you have done of course) so now there is only one problem. You need to be home to answer the doorbell when the UPS guy swings by to drop it off. If only you didn't need to go to the office! Sounds familiar?
Waiting for the Bell to Ring
A lot of people need to stay home to wait for a delivery. TOA Technologies has done some research about waiting for home deliveries and concluded that the total cost of waiting at home for deliveries and services (in the UK) is 2 billion pounds!
E-tailers have developed new ways for customers to receive their orders: Amazon has Amazon Lockers at places like Staples. Dutch e-tailer Bol.com lets their customers pick up their orders at locations of one of the biggest grocery chains in the Netherlands, Albert Heijn. Even Google is moving into the delivery space market with the acquisition of BufferBox. More convenient than having to wait at home, but there is a lot of room for improvement.
Ship-to-Person
In June I wrote a post on e-Commerce deliveries, suggesting that in the future there would be ship-to-persons, instead of ship-to-addresses, with parcel companies using your actual location instead of your address. Last week I stumbled across a start-up in Belgium which has devised a means of delivery that comes pretty close to this concept. The company is called Cardrops, and here's what they do:
"…Most people have a smart locker in front of the house:their car. Although we drive them around, cars are still parked 90% of their time. By tracking your daily parking routines our parcel-matching-platform is able to send delivery service to your four-wheeled locker. In front of your house, parked near your office or wherever your happen to be for a certain time.

24/7 drop off service. Yes, we can deliver while you sleep. Forget office hours, closed lunch breaks or the few rush hours between work & sleep.
Frictionless delivery. Forget all the planning and hassle. The only thing you'll notice is the simple SMS: "Your package has arrived in your car. Have a wonderful day!"
You are in control. At every moment you can track both your package plus the location & status of your car. When it comes to privacy, you're in the drivers seat. If for any reason you want to snooze the tracking of your car, you can…."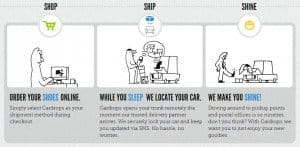 And here's how they do it:
TRACK A MOVING DROP-OFF BOX!

A service man will install the Cardrops starter kit in your car. This unit will ping the GPS coordinates of the car when it hasn't moved for 15 minutes. Based on these data our system can create a heat map of the exact locations where your car is mostly parked. (e.g. in front of your house, office parking,…)

A DELIVERY SUCCESS RATES ABOVE INDUSTRY AVERAGE

Based on the daily and weekly routines of the car we can automagically predict ahead when your parcel can be delivered. We look 36 hours ahead and send a time slot and location to our delivery partner. If at the last moment the car would move we can abort the delivery and look into a new delivery-moment.
It's a Trust Thing
It's currently in a pilot stage, so we will have to wait and see if that is successful. There certainly are some issues that come to mind, with trust being the main one. You will have to feel comfortable with a stranger accessing your car. Also you will have to trust Cardrops to securely store the data they collect with the GPS locator. While this seems like a big step, we are already (knowingly or unknowingly) giving our location away to companies like Google, Facebook, and Apple, through our smartphones and tablets, and the apps we use on them.
I think it's a great idea, that brings us closer to the ship-to-person model. What do you think?
NEXT BLOG POST – Fork Lift Safety – Serious Business!

PREVIOUS BLOG POST – What Sandy can teach us about the importance of online communication