At the start of the year, the 5th edition of The Handbook of Logistics and Distribution Management has been published by Kogan Page. It's a whopping 720 pages filled with a wealth of information on all aspects of the supply chain, from raw materials through to the final distribution of the finished product. The authors are Alan Rushton, Phil Croucher, and Peter Baker, who are experienced and seasoned consultants in the field, explaining the hands-on style in which the book is written.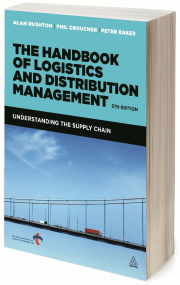 Fully Revised
The field of logistics and supply chain is ever-evolving which spurred the authors to revise the handbook completely, adding a chapter on humanitarian logistics, explaining the differences compared to commercial logistics, and a chapter on multi-channel fulfilment (also referred to as omnichannel), touching on the complex issues related to the distribution of goods through different channels. A lot has been written on that subject lately as e-tailers and retailers move into each other's fields, trying to expand their market share and reach new customers.
In One Go, or as a Guide
You can read the book cover to cover for a full grasp of the field of logistics or use it as a reference guide. The style in which it is written is easy to read and encourages casual consumption of tons of information. Until now, I've used it to read up on the areas I'm less familiar with.
The book is divided into six distinct parts, each covering a key subject area in logistics:
1. Concepts of logistics and distribution
2. Planning for logistics
3. Procurement and inventory decisions
4. Warehousing and storage
5. Freight transport
6. Operational management