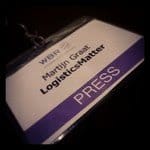 November has been a very busy month in which we visited a total of three conferences, of which LogiMed was the first.
The LogiMed 2013 Conference was held in the Kempinski 4 Seasons Hotel in the center of Munich, where more than 125 Medical Device Logistics and Supply Chain executives exchanged ideas, knowledge, experience, business cards and drinks.
The economy is still recovering and that is also being felt in the Medical Devices marketplace. Healthcare spending is down, and there is a major impact on the price of healthcare products. Globalization is increasing the competition in the marketplace, and Medical Device companies can't always pass the cost on to the end customers. One of the areas where challenges like this can be overcome is Logistics & Supply Chain and various speakers were lined up to tell the attendees how to go about this.
Operational Excellence
Operational Excellence was the subject of various presentations. Almost all of them touched on the 5 (or 7) wastes (Defects, Overproduction, Transportation, Waiting, Inventory, Motion, and Processing) and the importance of driving thesewastes out of existing and future Supply Chain and Logistics processes. All of the speakers broaching on this subject were successful in implementing Lean and reaped the benefits: decreased cost, increased efficiency and effectiveness, less faults etc.
Please do keep in mind that implementing Lean means a cultural change. Lean is more a state of mind, than a means to an end. Everybody needs to be focused on improving, every day. Rick Desmarais, Director Lean & Process Excellence of Johnson and Johnson emphasized the need for the creation of a burning platform: Constantly get people out of their comfort zone and keep them on their toes, stimulating continuous improvement. For operational excellence to be succesfull you have to create a need for change.
Sikko Zoer Supply Chain Vice President of Medtronic showed the picture below stating: With Operations Excellence you can pick all three! And I agree 🙂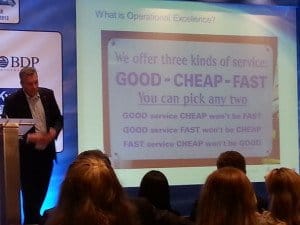 Employee Empowerment
A great and inspiring example of Collaboration was presented by Harald Rijkers, Operations Manager at Boston Scientific, who spoke about his visions for the future. Harald envisions a Medical Valley, similar to Silicon Valley, in the area surrounding Kerkrade where Boston Scientific is located. He also stipulated the power of Lean, but emphasized the need for trained and educated warehouse workers, making sure everybody has the skill sets needed to meet the requirements of a Medical Device company. Employee Empowerment is the key word here.
Boston Scientific's leadership had a dream: they wanted the company to become a true Learning Organization. They started educational programs which were focused on improving employee skill sets through teaching and on the job coaching. Authenticity, enthusiasm and passion were key in facilitating Empowerment in their logistics work force.
Together with parties like the University of Maastricht, government organizations and medical centers they developed a program which they dubbed the Kerkrade College of Logistics Services. Underlying belief was that well trained employees who truly understand what they need to do to be successful in their job, can make the company successful. The course program consisted of lectures by logistics subject matter experts, but also actual medical practitioners talking about what the products and services of medical device companies mean for them.
They've even invited other Medical Device companies to join the program to increase the quality of employees across the region. An ambitious and progressive plan, to say the least. Their motto: "Dream, Think, Do, Dare". Without a doubt the most inspirational session of the conference.