There was quite some snow this morning, so it took me 1 hour and 45 minutes to get to work, instead of 45. The sun was shining, the farm lands I was driving through were white and looked beautiful in the morning sun, and I had some interesting podcasts to listen to. Time well spent. And now on to what caught my eye in the news this week.
3PLs battling trend toward "service commoditization"
Two items about 3PLs I want to highlight. The first is a piece on commoditization from DCVelocity, and is based on the report that eft has just released on 3PL Selection and Contracting. This was one of the key subjects that was discussed at last year's eft 3PL Summit. The value a 3PL can add is much more than a simple lower price per box picked, or pallet shipped, but when a shipper has a pure cost and treats the service as a commodity, this is a hard sell.
The second piece is also about the 3PL industry, but this article sees the 3PL as a transportation management company, where the first article also takes warehousing into account. Maybe the fact that it's from truckinginfo.com explains that… 🙂 Interesting read nonetheless.
Google is reportedly planning to use its driverless cars to compete with Uber. Or not.
Several sites reported a story earlier this week about Google planning to use its driverless cars for an Uberlike service. Reportedly was the key word here. When Bloomberg tweeted the news it got a reply from Google. Apparently a story blown out of proportion, but it still gives a glimpse into the future. Self driving vehicles will become a reality, and the step from transporting people, like the Google vehicles are doing now, to transporting goods is a small one. A transportation trend worth following.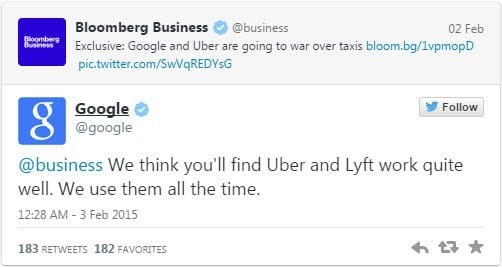 Google Enters the Collaborative Economy in a Big Way
An interesting blog post by Jeremiah Owyang outlining 5 of Google's latest collaborative initiatives. The fifth initiative mentioned is the Uberlike app mentioned above, but he makes an interesting point nonetheless.
Increased fuel surcharges for UPS and FedEx, while diesel prices drop to a five year low
This week fuel surcharges took effect for both UPS and FedEx. Fuel surcharges. That is an unfortunate name for a surcharge, in a time when diesel prices have dropped to a five year low. You'd expect a fuel refund…
The Rebirth of Transportation Marketplaces
The last item I would like to bring to your attention is a very interesting post by Adrian Gonzalez of Talking Logistics on how Transportation Marketplaces are changing through new technologies and innovations.
The Logistics Video of the Week is one of the new Helicopter of the new Helicopter Delivery Service, that DHL Express has launched in the London Area, flying over the city.
Have a great weekend!
Please find Logistics in the News – Week 6 here.