Panalpina, one of the world's largest freight forwarding and logistics companies, says its customers in the healthcare industry could make significant cost savings in their supply chains by working together, such as by sharing transport space.
For many years, the high value world of healthcare operated a "delivery first, cost later" approach when it came to their supply chain. But since the financial crisis, the industry has different priorities and supply chain solutions are now selected on cost and capacity, alongside quality and innovation. 
Stricter legislation and more diverse codes of practice mean that developing new drugs requires more time and money than ever before. Companies are increasing R+D budgets while looking to make savings elsewhere and Panalpina has identified freight forwarding as one area where savings are available to the industry.
"New drugs do not appear with the frequency they used to and more companies are now selling similar products to a wider market and in greater volumes. This increases competition and lowers prices," says Thomas Berger, Global Head of Industry Vertical Healthcare at Panalpina. "To remain competitive, companies are looking to cut costs. We wanted to help our customers in this, and engaged in a coopetition approach for several large pharmaceutical companies. Here we discussed ideas for saving freight forwarding costs and encouraged participants to develop solutions based around the ideas."
Supply chain decision-makers from some the world's largest pharmaceutical companies attended a series of workshops in Miami, Florida, U.S., together with Panalpina staff, and representatives from the International Air Transport Association, air cargo companies and freight consultants. The workshops covered all aspects of the healthcare industry supply chain.
Coopetition
The idea of "coopetition", competitors working together for common benefit while staying fully compliant, was one of Panalpina's central messages. For example, for healthcare customers, this could mean sharing transport space that would otherwise be empty. The participants of the workshop discussed new supply chains and ways of consolidating shipments from multiple companies. They also discussed which products are best to ship together. Many pharmaceutical products need to be transported and stored in temperature controlled environments. In air freight, this generally means shipping products using relatively expensive active cooling solutions, specially-designed containers with built-in refrigeration systems. Consolidating shipments or where possible also switching to passive cooling solutions with thermo covers and blankets can help reduce costs.
Moving to ocean freight
Another potential cost reduction for healthcare companies could be to move more products by sea rather than air, participants found. Ocean freight already accounts for a large proportion of capacity in healthcare, mostly for less fragile and time sensitive products, but air freight accounts for more cost. Identifying product lines that could switch to ocean freight, leaving only the most urgent items and delicate goods for air travel, could present healthcare companies with substantial cost savings.
Continuing this theme, intermodal options (where air, road, rail and ocean freight are combined) is another way of reducing cost while not compromising delivery speeds as much as moving purely to ocean freight does. "Ocean freight doesn't have to make up the complete journey," says Berger. "By mixing ocean freight with other forms of transport there are almost unlimited options, it really just depends on the customer's needs."
The road ahead
"We wanted to discuss challenges and ideas, which we did, but we also created concrete solutions and I'm glad of that," says Andreina M. Gutierrez, the Key Account Manager for Panalpina's healthcare customers in Latin America. "This group of companies now has a detailed road map with clear goals and next steps."
As part of those next steps, the companies agreed to trial a new intermodal route for less urgent shipments. This route, managed by Panalpina, will run across two continents, utilizing air, road and ocean freight with timing and temperature checks throughout. If it proves a success, it will likely form the basis for future collaboration. Another next step will see Panalpina work with participants to create a new framework and more efficient documentation for streamlining the supply chain process for healthcare products.
"The workshop gave companies a chance to take a detailed look at their supply chains and analyze where money is going, where savings might be made and to discuss their findings with competitors in a neutral environment. This facilitated discussions between companies that might not otherwise have happened and they were able to find common ground and also significant potential savings," said Gutierrez.
Panalpina offers its customers passive cooling solutions such as these blue thermo covers below. Passive cooling solutions cost less than active cooling solutions.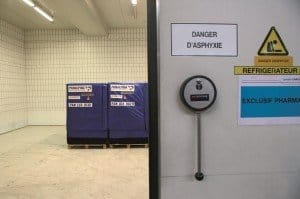 The Panalpina Group
The Panalpina Group is one of the world's leading providers of supply chain solutions, combining intercontinental Air and Ocean Freight with comprehensive Value-Added Logistics Services and Supply Chain Services. Thanks to its in-depth industry know-how and customized IT systems, Panalpina provides globally integrated end-to-end solutions tailored to its customers' supply chain management needs. The Panalpina Group operates a global network with some 500 branches in more than 80 countries. In a further 80 countries, it cooperates closely with partner companies. Panalpina employs approximately 15,500 people worldwide.
For more details, please contact:
SOURCE: Submitted by Panalpina