Transporeon, ALICE, and the European Commission call on all logistics players across Europe for help. Twenty-five million tons of grain and other agricultural goods are stuck in Ukraine due to supply chain disruptions caused by Russia's invasion of Ukraine. The logistics industry in Europe needs to come together to help solve this problem. How else will we find the capacity to get this immense volume of goods back on the road and rails again.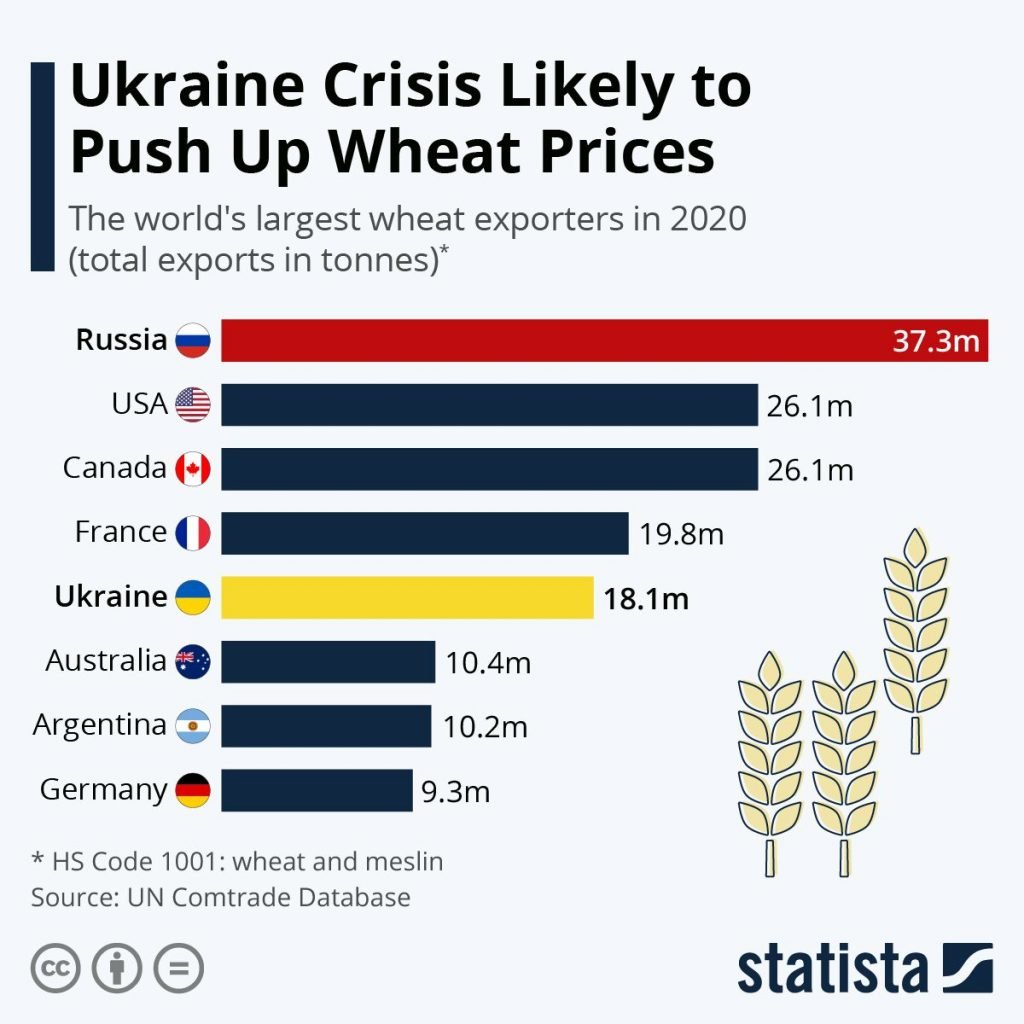 Grain is the third most common crop. It is relatively cheap to produce and can be used in many ways to feed both humans and animals. Especially developing countries rely on wheat to feed their people. More than eighty percent of the grain produced in the world is used to make flour.
More than 85% of all the wheat that is grown in the world comes from only seven countries:
The main problem is that most of the wheat produced in Ukraine and Russia is sent to North Africa, Asia, and the Middle East. We are facing a global food shortage if we don't act now. The problem is not that there isn't enough wheat, but the problem is that it is stuck in the wrong place. With Russia blocking the Black Sea, getting the grain out is difficult. The most efficient way to do this is via bulk freighters, but with that avenue closed, the European logistics community needs to come together to overcome this challenge.
European Union Opens Solidarity Lanes
The European Union detailed the size of the logistics challenges in Ukraine and made a first call to action to the European logistics industry.
Ukraine is currently storing around 40 million tonnes of grain, and half of that must be exported by the end of July. Apart from economic and food security reasons, pressure is mounting to free storage capacity for the coming harvest. So 20 million tonnes of grains must leave Ukraine in less than 3 months.

Last week, a big ship left Romania's Constanța port loaded with 70,000 tonnes of Ukrainian cereals. To fill it to capacity, a combination of 49 barges and trains was used. One 600 metre train can carry around 1,900 tonnes of grain. A convoy of 6 barges, which is how the grain travelled from Ukraine's Danube ports, can carry a maximum of 18,000 tonnes.

If you do the maths, you will see that an astonishing 10,000 barges and almost 300 large ships are needed to carry 20 million tonnes of grains.

The task before us is gigantesque. Thousands of wagons packed with grain are still waiting at Ukraine's borders with Poland and Romania. The average waiting time for border crossings is 16 days; at some border crossings, it can be 30 days.

…

We are calling on market players to make available loading equipment, train wagons, barges, lorries, and vessels as a matter of urgency. We are also asking the Member States to increase inspection capacity at border posts to deal with arrivals 24/7.

We ask all infrastructure managers to prioritise Ukrainian agricultural exports along our busy freight corridors.

This includes granting rail slots for these shipments. And because we understand the risks involved in sending EU equipment over the border and into Ukraine, we are also looking into granting top-up guarantees, together with international financial institutions, to remove the risk of financial loss for EU companies.

SPEAKING POINTS PRESS CONFERENCE EU-UKRAINE Solidarity Lanes
Transporeon Joins European Commission to Help Solve Logistics Crisis
Transporeon today announces the availability of its Transportation Management Platform for all involved parties to identify live congestions and transit times across the region. Stephan Sieber, CEO of Transporeon told LogisticsMatter:
"We are very honored to partner with the European Commission and to contribute to this important initiative.
The power of our Transportation Management Platform and our extensive network puts us in a unique position to make a difference. Shippers, traders, rail, barge, and road carriers as well as logistics service providers can now register on the Transporeon platform for demand and supply matchmaking. With this information, we will visualize congestion points and transit times in real-time on a dedicated map, at ports, rail terminals, and border crossings.
We invite everyone across the industry to join and help solve the critical supply chain challenges Ukraine is currently facing."
In addition, Transporeon will offer its freight procurement platform for free and the needed consultancy services to run the project at cost to all shippers engaged in exporting Ukraine produce worldwide. This service will give suppliers in the Ukraine access to the market's leading transportation management platform, enabling logistics providers to submit prices and capacities efficiently and cost-effectively.
More information: https://www.transporeon.com/solidaritylanes
Please Help Out!
Get involved. Play an integral part. Learn how HERE: https://www.transporeon.com/solidaritylanes