Technology is changing how logistics services are being provided, and also how logistics service providers themselves work. Increased use of technology also has an impact on the role the CIO or the head of the IT department has, transitioning from support to strategy. eft have concluded this based on one of their lates surveys: The 2015 Logistics Technology Report. The results of this research have been used to set the stage for the upcoming Logistics CIO Forum, which will be held in Austin Texas this April. LogisticsMatter is a Media Partner of this year's event.
Readers of the LogisticsMatter blog know that we regularly write about new technologies in the Supply Chain and Logistics arena. One of the questions answered by Logistics CIOs and Heads of IT departments was about which technologies their company would be investing in in the near future. While 77% of respondents told eft that IT investments would be increased this year, most of the new technologies selected by eft for the survey will not be on that investment list. Still, over 10 percent is looking in to investing in Drone Delivery, and around 8 percent in Augmented Reality. Of the technologies selected Machine to Machine communication and the Internet of Things was by far the most popular, with nearly 30% of respondents' companies looking to invest there. 3D Printing and Driverless Vehicles seem farther away than I would have thought.
Another area which most CIOs seems confident about that it will have an impact is Big Data. According to the survey over 34% of companies are already investing in it, and over 28% will invest in Big Data in the next 12 months. Looking at what the same group said about how much of a differentiator Big Data will be for their company, these numbers make sense.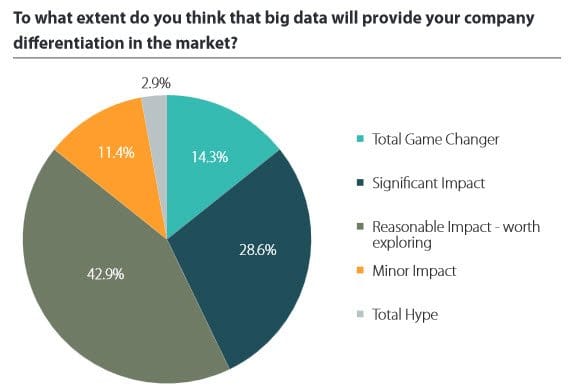 eft concludes the report:
While headlines are seeing huge changes in the potential technology has to change logistics, in reality, things aren't happening as quickly. In reality, logistics executives are looking at incremental changes, tackling the day to day challenges they're facing regarding technology. The role of the CIO is only slowly moving towards strategy, rather than the leaps and bounds we've heard predicted.
Be sure to check out the agenda, which you can find by following this link.
Some of our favorites items on the agenda:
How Can M2M and the Interet of Things Finally Resolve the Supply Chain Visibility Conundrum?
The Real Impact of Wearables on the Logistics Industry – Fad or Game-Changer?
Can the Sharing Economy Help address the Driver Shortage?