Home Delivery World is a conference held with the goal of helping retailers get their products to their consumers. A returning subject on LogisticsMatter, especially when it comes to last mile deliveries. The fact that I buy a lot of things online does make the subject dear to my heart. I'm not the only one that has felt let down because of a missed delivery. Or even worse: one you specifically stayed home for, but which didn't arrive. We are happy to be a Media Partner of this technology laden event.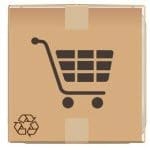 Home Delivery World is combined with two other conferences: Click and Collect Show USA and Etail Show USA, which you can all visit with one single ticket to learn all about the newest innovations across home delivery, click & collect, and etail. All this will be part of a greater expo which will gather over 2000 retailers and their partners. Did I mention the Virtual Golf Long Drive Contest? 🙂
Some of our favorite sessions on the agenda:
In-store fulfillment: The benefits of leveraging stores as distribution centers for rapid delivery
Case Study: Final mile innovation and strategy
Shipment visibility and consumer self scheduling deliveries
Killing The Wait – The Uber Revolution's Impact on the Delivery World
White glove last mile market segmentation
The Strategic Importance of Delightful Returns
Please find our more about the event by clicking here.