Climate change. It is real, and it is not going away by ignoring it. We have to step up and actively do something. There are many ways to do this, and one of the most important ones is reducing carbon dioxide emissions. If there is one logistics component contributing heavily to these emissions, it is trucking.
Zero Emission for Cleaner Air
A Dutch transportation startup based in Rotterdam intends to turn this around. BREYTNER is the first zero-emission trucking company in Europe, and maybe even in the world.
I recently met with two of its founders, Marie-José and Jeroen Baartmans, to discuss their plans for the future. And to see and (not) hear one of their trucks, of course.
The Challenge That Is Air Quality
"We see today's air quality problems as a challenge instead of a limitation" is one of the first things Marie-Jose tells me. One of the areas where trucks are impacting air quality the most is in cities. It is one reason why many European cities have instated environmental zones in and around their city centres. Rotterdam is one of those cities.
The following vehicles are not allowed in the environmental zone of Rotterdam:
Trucks with a diesel engine that fall under Euro-I, Euro-II and Euro-III of the EU emission standards.
Delivery vans and passenger cars with a diesel engine with a Date First Registration before 1 January 2001.
Delivery vans and passenger cars running on petrol/LPG with a Date First Registration before 1 July 1992.
It's a (Green) Deal!
Diesel trucks that are allowed in Rotterdam still hurt air quality. Only a zero-emission truck would have no impact. That is why BREYTNER has signed a deal with the city's Green Deal 010 Zero Emission City Logistics initiative. With their zero-emission trucks, BREYTNER is the perfect partner.
The range on these trucks is around 200 kilometres, which makes them perfect for city distribution. BREYTNER does both B2B and B2C deliveries. Among the current customers are several larger retailers. The trucks replenish the stores and pick up returns.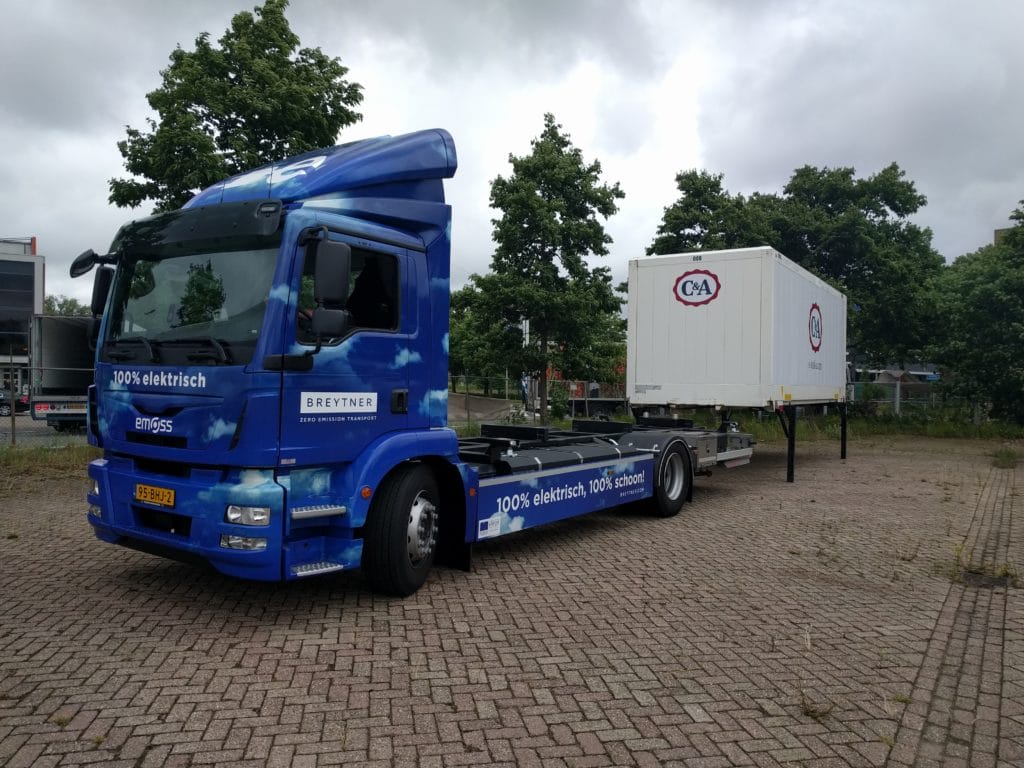 Diesel Out, Electricity In
The trucks are modified diesel trucks. To my surprise, BREYTNER has to buy regular diesel trucks, which are then modified. The diesel engine is taken out and replaced by an electric engine and battery. That is why, just looking at the truck, it isn't immediately obvious that it is an electric truck. But when the trucks pull away, you know immediately. It makes almost no sound!
It's Deafening, or Is It?
I've taken a short ride in one of the trucks and made a short video. Please find it below. To be sure: there is nothing wrong with the sound on your device. It is that quiet. The windshield wipers actually make more noise than the engine…
Under the Hood
For those of you interested in the specs of the truck:
The truck weighs 19 metric tonnes and is a fully air suspended MAN TGM 4×2 truck. It is then modified by Dutch electrical engine specialist EMOSS in Oosterhout. They install a 240kW electrical engine.
The battery is a 200kWh lithium battery, which takes about 5 hours to charge fully. A full charge gives the truck a max range of 220 kilometres. There a lot of factors that can influence the max range. The quality of the driver, traffic, the payload, even the outside temperature.
This is a great initiative, and I hope that more shippers choose this sustainable mode of transport.