This past weekend was the last weekend of my Summer Break. I had two great weeks with my family in the South of France and one week around my home town Rotterdam. One of this break's final activities was a visit to SAIL in Amsterdam, which entailed 8 friends, a launch, and two beer coolers. We saw a lot of beautiful ships Saturday, but one caught my (logistical) attention: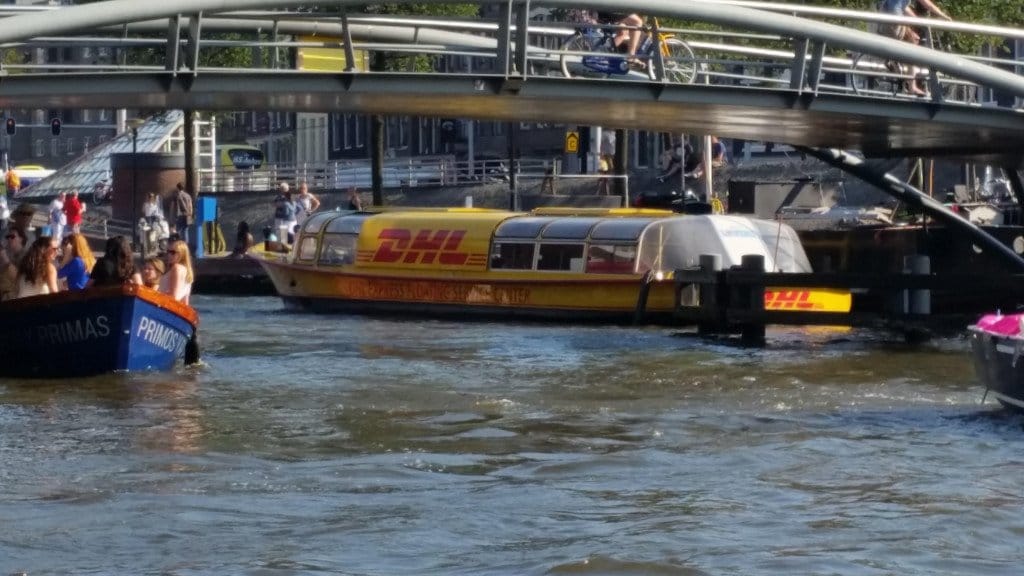 Ok. It isn't new and innovative (now), but it is a great idea nonetheless. I did some quick online research and found some information on the DHL boat in the picture and its story. Amsterdam is a city with narrow streets and about 100 km of canals. (I was on a lot of them this Saturday…) Because of that, it has always been busy and congested, and that surely hasn't improved over these past years. In 1997 DHL Express decided to find a way to improve their efficiency in delivering packages to the city centre. They rented and branded a boat off the Lovers company, who have been doing canal cruises for 67 years and started using that to distribute packages to the city centre. The number of delivery trucks they drove into the city daily went from 10 to 2. The boat is used as a floating distribution centre. The "last mile" delivery is done by bike messengers.
The last reference I could find in my quick search was from 2009, so I'm not sure if the boat is still in operation today. We took the picture above last Saturday, so it's still floating.
With battery capacity increasing, I think we will see alternatives to fuel-based delivery vehicles in city centres and beyond. As the narrow, congested streets of Amsterdam, or a city like Venice, we may see boats in exceptional situations. In other cities, we will see more electric vehicles. A few examples have already launched, like the initiative in the Dutch city of Delft I wrote about earlier this year, where goods are brought to a DC outside of the city, and electric vehicles deliver in the inner city. It's just a matter of time. In the meantime, I will keep writing blog posts about it…
Oh. And a big thanks to you, Maikel, for taking us out on your launch. We had a blast!!