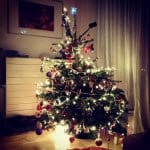 In 2011 I wrote a post called Christmas Time, Logistics Time, in which I described the internal logistics of the holidays for my family and me. Not much has changed, and it is still a challenging time for shopping, planning, packing, and driving. This year, there is less driving and more grocery shopping because my parents, my sister, my brother and his girlfriend are coming over to our place for dinner on the second day of Christmas. We each make our own course for dinner, so the work is divided. Good thing I like cooking.
Another Infographic!
And there are more items in 2011 that have been updated. One is our Christmas tree, which is at the top of the post again (updated version). The other is the infographic I shared in the 2011 post. The people at Derby Supply Chain Solutions made an update to their Logistics of the Holiday Season Infographic. Some interesting numbers in there: how about 290.000.000 packages delivered by FedEx between Black Friday and Christmas Eve, or the fact that some stores get close to 25% of their annual sales during the holidays, and how about returns… apparently 60% of Americans receive unwanted gifts, and 30% returns them. It hasn't happened to me yet, and I've been a good boy this year, so I'm keeping my fingers crossed!
Please click the image to see enlarge it.

You can find the original picture here.