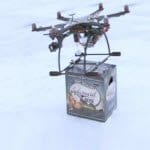 Let's face it. It's just a matter of time before the first commercial drone deliveries will be done, fully approved and licensed. The question is just when and where. Which country will be first? I'm sure we will see that this year. There have been some serious and not so serious tests with delivering goods via drones. As the weekend is nearing, I've chosen the not so serious ones for this post. Please find 5 delivery concepts below that are perfect for the weekend.
Lakemaid Beer Drone Delivery
The perfect service for when you are out on the lake ice fishing. Should work in the summer as well, but landing on a boat may be more challenging… Works fine on a balcony or lawn as well.
The OppiKoppi Beer Delivery Drones
This service was tested on music festivals. Not sure how this would work over crowds, as the drone actually drops cans from quite high up, but let's not fuss on details now. I think I'll go for the case anyway.
Champagne Delivering Drones
Ok. I'm a beer guy myself, so I like the first two concepts better than this one, but still… 🙂
Dodo Dronde Delivered Pizza
What better food for the weekend than Pizza. Well, there's a drone for that! And the Dodo Pizza company in Russia claims to actually deliver pizza's with drones. In the video below the pizza is even delivered to somebody not on the ground.
Burrito Bomber
Although I have some doubts when it comes to delivering with the same measure of accuracy as with copter drones, this Burrito Bomber is my favorite. Has nothing to do with the Burrito, because I like Pizza better. Just have a look 🙂
Special Mention: Fly Cleaners
When you've drank all the beer and ordered the burrito and/or pizza, chances are you have spilled something on your clothes. No worries. There's even a drone for that! The Fly Cleaners…
https://www.youtube.com/watch?v=MklSV6f4p4Y
Obviously most of these concepts are not very serious, but that doesn't mean Drone Delivery isn't serious business. The Drone are Coming! …ehm.. Delivering!