In October of last year, I wrote about a bus station made of shipping containers in the Dutch City of Barneveld. Since then, I've come across many different buildings and structures made out of shipping containers, and some of these are absolutely amazing. I decided to combine some of my favourites in a post (not counting the bus station).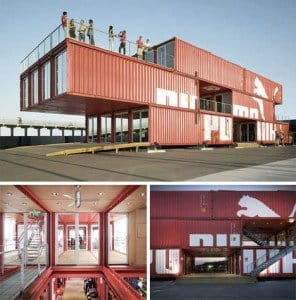 Not Just a Container
The first one combines my love of sneakers with my love for logistics. It's an 11,000 square feet pop up store concept created for Puma out of 24 shipping containers. It was created for the Volvo Ocean Race in 2008, and, mobile as it was, it travelled the world. (Image courtesy of weurbanist.com)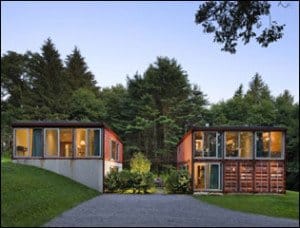 The second one is a home built out of 6 recycled shipping containers. It was designed by a company called Quick Build, and I love just how much "Logistics" this is. The company will ship you your house ready for assembly, and the estimated cost for a fully finished 6 container house is about $190,000. The picture on the right is of a 12 container version.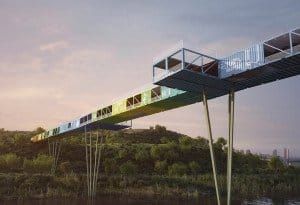 Project number three hasn't been built yet. It won first prize in a contest to design a 160-meter long bridge that will be a gateway into Ariel Sharon Park. It will take pedestrians, cyclists and special vehicles into the Park from the parking facilities. The bridge is in the stage of detailed design before execution and was designed by Yoav Messer Architects.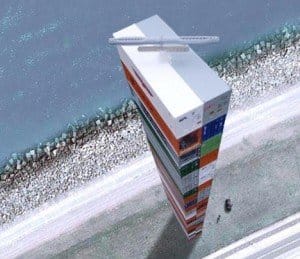 The fourth one has never been built, which I think is a shame. It was submitted in a contest organized by the Port of Rotterdam to design a 230 feet high radar and observation platform. NL Architects designed a tower made of 25 containers double stacked. Unfortunately, the project was cancelled as the design wasn't deemed dramatic enough. It was to be surrounded by huge windmills, dwarfing the structure. (Image courtesy of treehugger.com)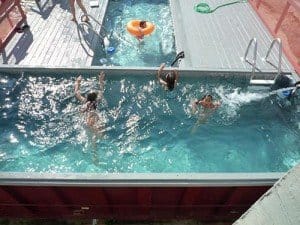 And the final one, with the summer, starting,  I wish I had in my backyard: The Shipping Container Pool!! (Image courtesy of giantcontainersales.com)