I like design, especially if it's modern, innovative, and functional. I also like Logistics, also if it's modern, innovative, and functional. I especially love it when these two (like Hannibal Smith's plans) come together! In the pictures below you see the brand new bus station of Barneveld Noord (North) in Barneveld, which is a town in the central part of the Netherlands. This very functional design was created by NL Architects.
Two of the three roof containers contain the installations and storage spaces. The third one is used to heighten the ceiling of the waiting area (which has free wifi, by the way!). A vertical container serves as the bell tower and also contains the toilet facilities.
Although the building was designed as a temporary solution, I really hope they make it permanent. If you do have to wait for the bus…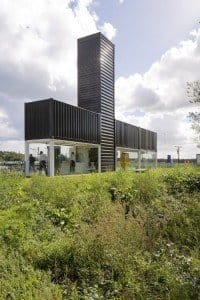 The pictures are by Photographer Marcel van der Burg and can be found on the Dutch site Architectenweb.nl.