Oslo, Norway (April 11, 2013) —Xeneta (www.xeneta.com), a price comparison service for sea freight, today announced that it has received €1.2m in institutional financing. The round was led by Stockholm based venture capital firm Creandum (www.creandum.com) with Norwegian private investment company Alden co-investing. Using the principle of crowdsourcing, Xeneta delivers transparency to an industry burdened with supply chain complexity and hidden rates. Xeneta's SaaS platform represents a new generation of open information links in shipping, allowing freight buyers and sellers to compare their rates both to the market average-and best-in-class rates. Since its inception last year, the company has managed to grow its coverage to over 125.000 data points per month on 1.100 port-port combinations to and from Europe.
"Right now we're on an aggressive path towards covering the whole of Europe when it comes to trade lanes in-and out of the continent," said Xeneta co-founder Thomas Sørbø. "We have our sights at global coverage, and the €1.2 million in funding allows us to further strengthen our team and continue broadening our international presence."
"We are impressed by the force in Xeneta's platform, illustrated by the value it brings to freight buyers and sellers. The proposition is in many ways similar to the way online price comparison and demand aggregation has transformed the travel industry," said Fredrik Cassel, General Partner in Creandum. "It's remarkable to see what the team has accomplished in a very short time: the amount of data Xeneta is collecting in an automated fashion and the growth in participants on the service"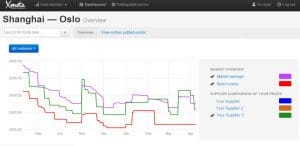 The Xeneta team includes professionals who, after established careers in the shipping and logistics industry, left their posts to start Xeneta. They sought to pioneer changes in an industry beset with highly volatile prices and lack of marketplace transparency.
"What the Xeneta team is doing is unprecedented in the shipping industry – we're eager to help them accelerate their vision" said Paal E. Johnsen, CEO of Alden. "It's refreshing to see a company addressing real issues, with a pragmatic solution."
Xeneta's user base already includes prominent freight forwarders and freight buyers who have been able to cut their sea freight prices by more than 30 percent. They now actively use Xeneta to benchmark their suppliers against the market.
For further information, contact:
Patrik Berglund
Malerhaugveien 19-23, 0661
Oslo, Norway
+47 46 76 00 20
About Xeneta
Founded in 2012, Xeneta (www.xeneta.com) brings transparency to the shipping industry. Xeneta's simple but powerful reporting tools allow freight buyers to compare their prices against the market average and best performing rates. Xeneta is a privately held company and is headquartered in Oslo, Norway, founded by Patrik Berglund, Thomas Sørbø & Vilhelm Vardøy.
About Creandum
Creandum is the leading Nordic venture capital firm investing in innovative and fast-growing technology companies within consumer, software and hardware industries. The firm has over €250M under management and has over the last decade invested in more than 20 companies including Spotify, Wrapp, Cint, Edgeware, iZettle and Videoplaza. For more information, please visit www.creandum.com.
About Alden
Alden is a private investment company based in Oslo, Norway. It invests in a range of asset classes across many industry sectors. Since its inception, Alden has had a strong focus on venture capital investments to which, in addition to providing capital, offers access to the firm's comprehensive network of resources. The company often co-invests with several of the leading venture capital firms in the Nordic region.
SOURCE: Submitted by Xeneta