Package delivery. One of the most important events for all companies that rely on parcel carriers to deliver their goods to customers (consumers and businesses). It can't always go right, and it doesn't. Who's fault it is doesn't really matter to the customer. They call the shipper to complain, and it's a lose-lose situation for everybody: the shipper, the carrier, and the end customer. Been there, done that. You?
Volvo Solves Delivery Hick-ups
Volvo wants to help solve this problem. I can almost hear you think: Volvo? Yes. Volvo. And here is how:
The concept works similar to the Parcer concept I wrote about in December last year. The parcel carrier (any carrier) has a code that they use to open a secure box on your property in which they deliver the parcel. Volvo wants the trunk of your car to function as a dropbox for your parcel. While the Parcer concept works with any delivery company, the Volvo solution doesn't. It only works with selected partners, one of which is a Swedish delivery start-up urb-it. (At the time of writing this post, the page with information on the selected partners was empty) It works like this:
You order something online with a website that offers "Volvo In-car Delivery."
You decide when and where the delivery can be made. The partner in question receives a temporary digital key, which they can use to open your trunk.
You can track the delivery via the Volvo portal. An e-mail or SMS is sent when the delivery has been completed.
Two is Better Than One
According to a recent press release, Volvo is working with Swedish start-up urb-it as their delivery partner. In-car Delivery is currently only available in Stockholm, Sweden. Still, expansion to other European cities is planned for later this year, as urb-it expands its services across the continent. Volvo's ambition is to have In-car Delivery available in over 200 cities worldwide in 2025. The press release gives some more information on the process:
urb-it's real-time delivery service ensures you get the item you have ordered within two hours of clicking the buy button on your smartphone, radically changing the online shopping experience people are used to. The Swedish start-up employs students and other part-time workers who get paid per delivery and uses geo-location and availability to choose your personal urber, as the delivery people are known.

Each urber is strictly vetted by urb-it to ensure a high-class service and traceability. You always know the name of the individual urber that is delivering your shopping. Once the urber receives your order on their mobile device they collect the items at the shop by presenting the special order code. They then take your package and deliver it directly to your car in under two hours.
You need to trust somebody, albeit temporarily, with the keys to your car, so the vetting of the "urbers" is critical.
If Parcels, Then Amazon
Volvo announced the In-car Delivery concept at the Mobile World Conference in Barcelona in 2014. It tested it last year around Black Friday in Gothenburg and logistics company PostNord and several local e-tailers. This has not gone unnoticed. Amazon will be trialling package delivery to the trunks of Audi's this May, according to Engadget:
Amazon is teaming up with Audi and DHL for a trial that delivers Amazon Prime purchases directly to connected Audi cars in the Munich area. All you have to do is provide the rough location of your car during the delivery window — after that, the DHL courier gets temporary access to the trunk of your vehicle to drop off your packages.
Location, Location, Location. Or: Ship-to Person
While this work fine for 2-hour delivery windows, there is a long way to go before this works for regular parcel shipments. I'm not sure about you, but I have yet to place my first online order for anything I need within 2 hours. I've said this before, but what I'd like to see someday is a delivery company that is flexible enough to offer delivery in a general area in a set time period. Ship it to me, not an address. Tomorrow. I will be in Rotterdam in the afternoon, but I'm not sure exactly where. I will share my location with you through my smartphone to know exactly where I am. Just contact me shortly before delivery to confirm that I will remain to receive the delivery. And as I live in Rotterdam and you will know where I am, I don't need a Volvo or an Audi and can ride my bike or skate. Some day…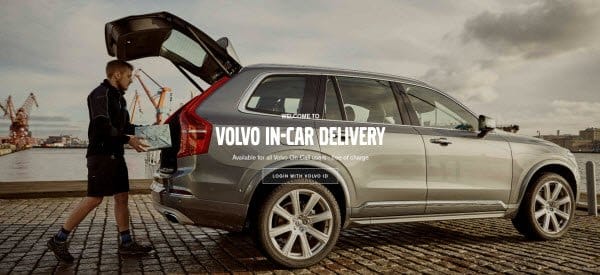 Image credit: Volvo