[UPDATE] This event has been postponed. Once the new date is known, this blog post will be updated [/UPDATE]
What a year it has been. Supply Chains will always be disrupted to some extend, but the disruptions companies faced in 2020 because of the COVID pandemic were of a different order.
Global Supply Chains are still in the process of recovering. Take for example the issues with empty containers. Due to the large number of blanked sailings large stacks of empties are not where they are supposed to be.
Each day seems to bring new challenges, and each day supply chain managers create new solutions. Data and the analytics of that data are key for developing solutions that actually work. This is where Artificial Intelligence (AI) comes in. Artificial Intelligence is used to enable companies to make data-driven decisions. AI-powered models are used to calculate different scenarios and forecast possible outcomes. So how are companies successfully using Artificial Intelligence to optimize their supply chains?
There's an Event for That
January 19-21 2021 Corinium Intelligence has organized an online conference where questions like that will be answered. The event is called AI Champions Online and it is completely free. LogisticsMatter is Media Partner of this event.
During this event, various experts will talk about how Artificial Intelligence has helped them to strengthen their supply chains. Two of the sessions that I am very much looking forward to:
On January 19 one of the sessions will be presented by Rajiv Sivaram, Vice President Global Ecosystem Management at SIEMENS. His case study is titled: Quality of Quickness.
The necessity for transformation in traditional supply chain models was thrown into warp speed due to COVID, as vulnerabilities and disorganization became transparent.
• The benefits or Robotic Process Automation in vendor selection and the procurement process.
• Integrating new vendors and technologies at unheard-of speeds in an unstable environment.
• Simplifying the onboarding process to save valuable time and money.
On January 21 one of the sessions will address the challenges of last mile delivery and how Artificial Intelligence can be used to overcome them.
• Achieving faster delivery time and reduced costs with geolocation technology.
• Rapidly analyzing disparate data to provide real-time traceability and the ability to provide accurate and timely updates to the customer.
• The potential and possibilities with integrating autonomous delivery vehicles.
No Fee to Register
AI Champions Online – Supply Chain is completely free. Learn from successful supply chain leaders and experts about artificial intelligence and explore strategic issues that matter to you from the comfort of your office or home. If a busy schedule prevents you from viewing the presentations live, then just view the recorded presentation on demand after the event.
For more information and registration please click here.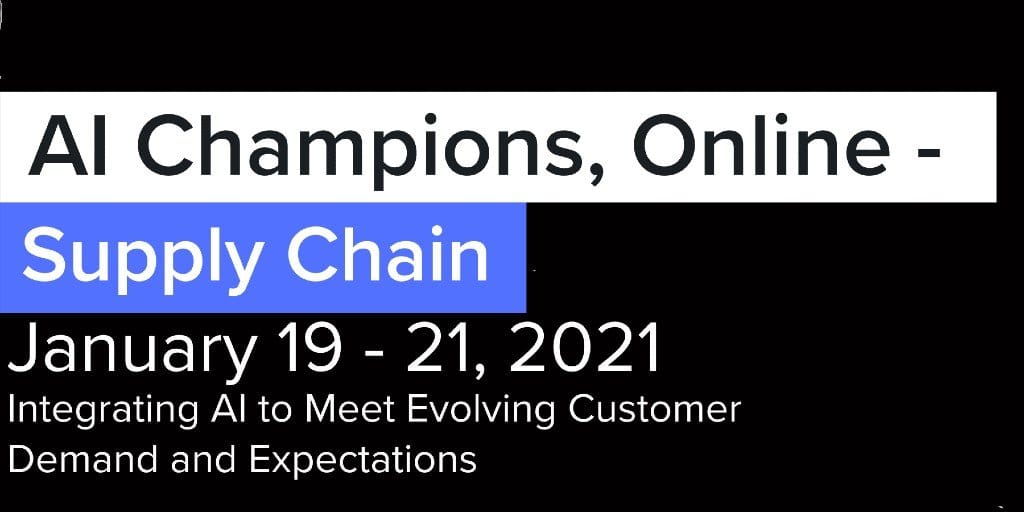 Header Imgae by Franki Chamaki on Unsplash