Con-way is one of America's largest transportation companies. While Transportation Companies are generally traditional companies, Con-way is at the forefront when it comes to Social Media. As I wrote in my post Smart Phone? Smart Logistics!, Con-way has been tweeting since 2009 and is active on multiple other social platforms, like YouTube, LinkedIn, and Facebook.
Logistics Company Recruits via Social Media
I follow Logistics Companies on various social media platforms and this morning a Con-way Facebook post caught my eye:
The message was posted through all Con-way Facebook pages, (Careers at Con-way, Freight, Multimodal, Truckload, and Menlo Worldwide Logistics). When clicked it redirects to a Facebook App, which is essentially a web application loaded in Facebook context. In this case it's a simple square with clickable buttons. The bottom one redirects to a general recruitment page, and clicking one of the three on the right will bring you straight to an online application system. (Click to see a larger image)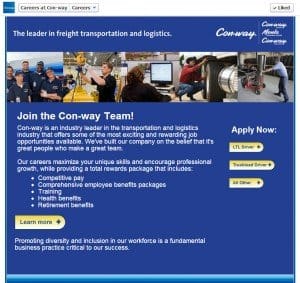 There's a Channel for That
There are several Social Media channels you can use for recruitment purposes. It depends on your intended audience which channel is best. In this case Facebook was used, and that makes sense, looking at the buttons for specific buttons: they are mainly looking for drivers. Chances are higher you will reach drivers on Facebook, than finding them on LinkedIn.
Whether you are posting on Facebook or on LinkedIn, one thing helps tremendously: Engaged followers.
Engaged followers will help you spread your message. One group that can help spreading are your employees: Most are on Facebook and/or Linked and they have a relevant network (on LinkedIn for sure).
What do you think works best?
NEXT BLOG POST – Self-driving Cars: Are Google Trucks Next?
PREVIOUS BLOG POST – Location Based Logistics – Why Forecast Should Have Stayed