Freight rates are increasing and are expected to continue on an upward swing for the next 10 years with some of the highest growth coming between now and 2016.
American Trucking Associations (ATA) expects an average annual truck volume growth rate of 3.3 percent a year through 2016 and 1.2 percent annual growth rate from 2017 to 2022.
ATA expects truck volumes for LTL carriers to average a 3.4 percent annual growth rate through 2016 while truckload carriers are expected to see a slightly higher annual growth rate of 3.5 percent. That continued growth comes on top of already impressive increases.
The U.S. Department of Transportation's (DOT) Bureau of Transportation Statistics' (BTS) Freight Transportation Services Index reported that the amount of freight carried by the for-hire transportation industry in December hit the highest level in the 22 years of the report. The DOT said December shipments increased 3.9 percent from November—the largest monthly rise in 17 years.
The DOT index measures the output of the for-hire freight transportation industry and consists of data from for-hire trucking, rail, inland waterways, pipelines and air freight.
ATA also reported a strong December increase—6.4 percent—in its monthly For-Hire Truck Tonnage Index, which is based off of surveys from its membership. In January, numbers dipped, which is understandable after the December surge. Even with the decrease, year-over-year January tonnage was up 3.6 percent.
For all of 2011, BTS reported that freight shipments measured by the index were up 6.4 percent, the highest full-year growth rate since 2002. As measured in ATA's index, for all of 2011, tonnage rose 5.9 percent over the previous year, which was the largest annual increase since 1998.
All modes of freight transportation were severely impacted during the recession. The recent and predicted freight increases are a result of the improving economy, and if the economy continues to recover as expected, the nation's total freight pool could grow by close to 24 percent between now and 2022.
From supporting the operation of your fleet to optimizing carrier usage, Penske has programs in place that can assist you with reducing your freight costs. Contact your local Penske representative for more information.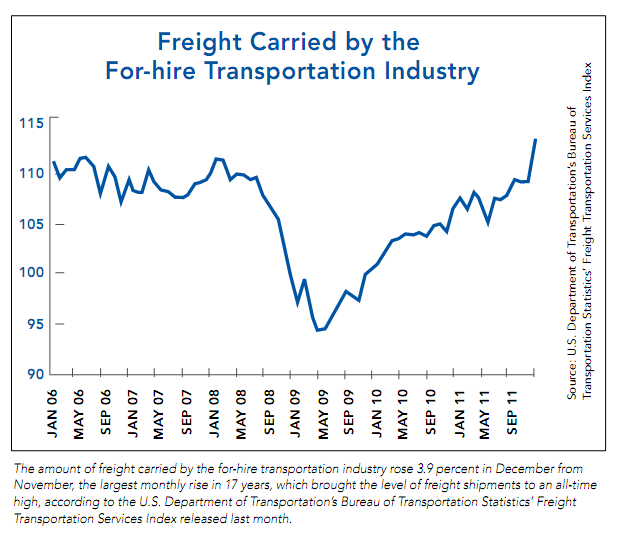 SOURCE: Penske Blog