DHL has been serious about sustainability. It launched the GoGreen initiative to bring down CO2 emissions substantially by 2020 and has been working hard at this ever since. One of the key focus points in the GoGreen strategy is Urban Distribution.
Package Delivery by Bike
In the Netherlands they have launched a new initiative distributing packages in several cities by bike. This has resulted in a reduction of 12 vehicles, which will be expanded later this year to bring the total to 25.
The service started in the Dutch Capitol Amsterdam in 1997, and has recently been expanded to The Hague, Rotterdam, and Delft. Two more cities, Leiden and Breda, will follow soon. "It is much easier to move through the often narrow streets. Also, we prevent traffic delays", says Jan Engels, Vice President Time Definite Network of DHL Express Netherlands.
Bike Courier Resupply by Boat
The video below shows how this works in Amsterdam, where the bike messengers use a boat that navigates the canals as their hub, to deliver packages they've picked up, and retrieve packages for distribution.
By the end of 2012 bicycles will be used for Urban Distribution in 14 cities in the Netherlands.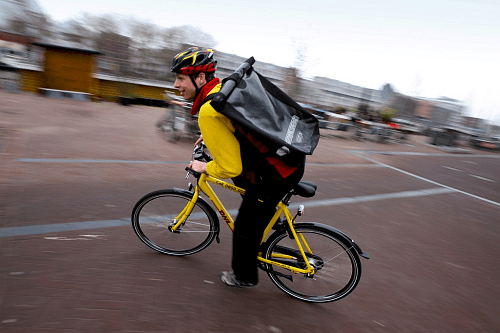 NEXT BLOG POST – Fortune 500 Social Media Statistics
PREVIOUS BLOG POST – Social Media Security Basics