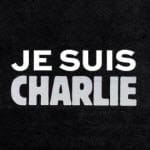 Yesterday two heavily armed terrorists walked into the office of the French satirical magazine Charlie Hebdo in Paris, and opened fire. At least 12 people were killed, among who were 8 journalists. And why? Because they wanted to retaliate for satirical cartoons that have appeared in the magazine. I know that terrible things are happening all over the world and people are being killed for all the wrong reasons, but what happened in Paris yesterday was a direct attack on one of the most fundamental human rights: the freedom of speech.
I use mine when I write on this blog and it is for that reason that I felt compelled to write this. I'm shocked that people were murdered for what they had to say, through spoken word, written word, or drawings.
My thoughts are with everybody that was close to the people that died and were wounded.
Je Suis Charlie.