No matter what the mode of transport is, somebody will always want to be the fastest. Naturally, this also goes for trucks.
Maximum Truck Speeds Around the World
Trucks are built for power and endurance and not for speed. And in most countries, they aren't allowed to go very fast, for obvious reasons. Speed limits vary per country. In the Netherlands, where I live, the truck's maximum speed is 80 km/h (almost 50 miles/h). I've listed the countries with the highest maximum truck speeds below (source: Wikipedia):
120 km/h – Kuwait
110 km/h – Pakistan, Nepal, Romania
100 km/h – United Arab Emirates, Panama, Laos, Morocco, Portugal, Germany, Chile
Easy Goings in Most of Europe and the US
Both in the US and Europe, the maximum speed varies. In the US per state and Europe per country. Most of the time, it's between 80 and 90 km/h.
This clearly wasn't fast enough for Volvo, so they decided to design and build the fastest truck in the world. Volvo:
The powertrain is based on the same unit that sits in a road-going Volvo FH, but the engine has been pushed to its limits to produce maximum power… The engine in the record-breaker is a mid-mounted and significantly modified D13 unit with water-cooled intercooler and four turbochargers, producing 2400 hp and 6000 Nm of torque. The electric and electronic systems have been scaled down and the software has been re-programmed. All so that the highly tuned engine can communicate optimally with the transmission – an I-Shift Dual Clutch of the same model that is fitted to seriesmanufactured Volvo FH models. The only adjustment to the gearbox is its reinforced clutch, which is necessary to handle the remarkably high torque.
Speedy Delivery
The top speed of the beast they've built was 276 km/h. That means that goods transported with this truck will reach their destination about 3 times faster!! 😉
Have a look at the record-breaking attempt in the video below:
On the results, Volvo has said:
With an average speed of 169 km/h and a time of 21.29 seconds, The Iron Knight beat the international speed record for 1000 metres from a standing start. It also beat the corresponding record for the 500-metre distance, at 131.29 km/h and 13.71 seconds. The record run was carried out at a closed-off test track in northern Sweden… Behind the wheel of The Iron Knight was Boije Ovebrink, who has more than 30 years' experience of both car and truck racing. He has previously beaten five speed records and in 1994 was European Truck Racing Champion.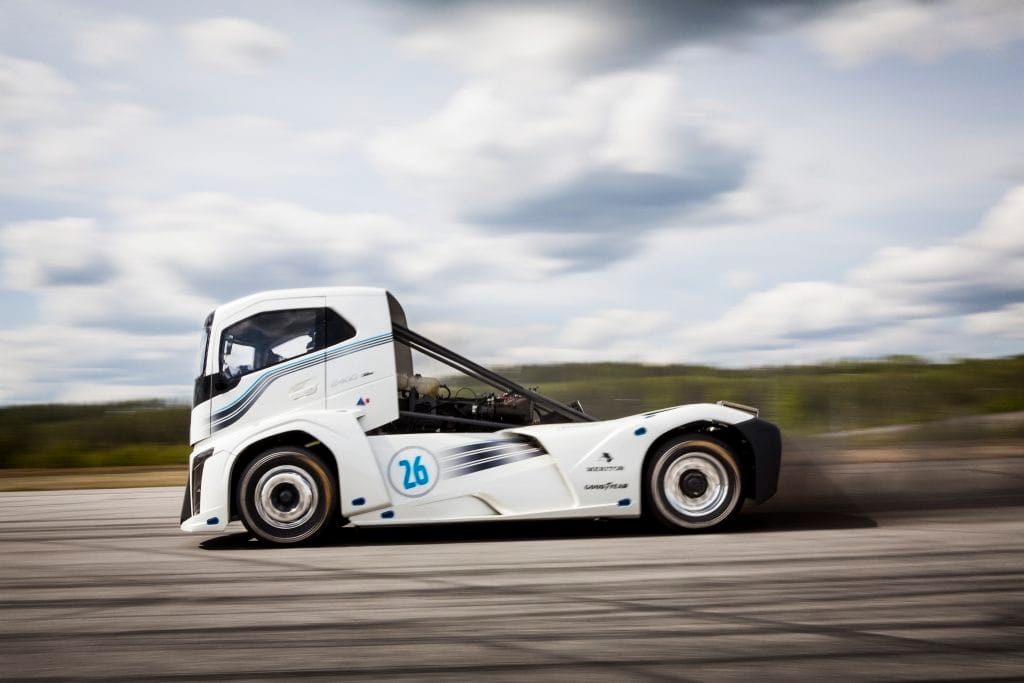 It's a Bird, It's a Plane, It's…
Ok. A truck has reached a maximum speed of 560 km/h, but they cheated with jet engines as you can see in the video below. The jets would burn the trailer to ashes before the truck has left the parking lot…
Image source: Volvo