When I came to China six years ago, the first thing I noticed was how advanced e-commerce was.15-30 minute delivery windows have only recently been widely adopted in Europe and the United States. Still, it was common practice in China already then.
Trends in e-Commerce in China
Subscriptions: The Chinese shop online every day. Many retailers have automated their sales processes, so customers automatically get new products delivered before they run out. Never without coffee, detergent, toilet paper, or chocolate. The subscription-based model is being used for many goods.
Stores as Experience Centres: Malls have a new purpose in China. They are more about a day of fun and good food with the family than buying items. You won't see people with bags full of things they purchased. They either buy it in the store and have it delivered at home or wait until they get home and order it online. Stores have transformed into experience centres, where you can touch and test products or try them on. In some cases, what you bought is almost delivered faster than you can get home.
Focus on Online: China's retail stores are actively steering their customers towards their online channels. They give you a discount if you buy it online instead of in-store. There are QR codes with all the products that link directly to the online store in many stores. Consumers shopping online have a significant advantage compared to consumers that buy in the store. It is easier to track their behaviour and collect data on what they look at and purchase. Chinese retailers have a big focus on customer data, and the Chinese are comfortable sharing their data with retailers.
Businesses and Consumers alike: It is not just consumers who shop more online. Companies use webshops as a sourcing channel as well. The B2B e-commerce market is booming as well.
Expanding Your Business Online into China
When you want to expand your business in China, there are several options. Use a distributor or retail chain, use a B2B setup, or sell directly to consumers. Whichever route you choose, it makes sense to choose an online channel, given the trends described above.
You can use one of the existing platforms, like Taobao or Tmall, for B2C sales. Western brands are popular there, but speed is essential. Chinese consumers are used to getting things delivered fast. It is not possible to ship fast from outside of China. This means importing your products to China.
Challenges When Importing in China
The procedure to import goods in China is complicated. There are several challenges that European and American companies face when they want to sell their products in China.
Importer of Record: To import goods into China, you need an importer of record. This importer of record needs to be a Chinese legal entity that takes full responsibility for the import. Establishing a local legal entity in China is difficult. You need to know the local language and culture and be fully aware of all rules and regulations, the tax system, and the documents you need, to name the most important things. You also need Chinese staff.
An alternative option is to use an intermediate who can facilitate your trade in China, like Ahlers. Using Ahlers' Trade Facilitation services, you can focus on marketing and sales, and we take care of the rest. We make sure the goods are transported to China, we deal with Chinese customs, and we store your goods in one or more of our warehouses, from where we can take care of distribution.
Getting Goods Through Customs: To get your products through Chinese customs, you need to make sure your goods meet all the requirements in terms of quality. Samples need to be tested, approved and certified in China. Chinese safety and quality standards have to be met. Ahlers has the knowledge and experience to determine what products need to be tested and certified and what is required to get your goods through customs.
Correct Labelling: depending on what goods you want to import, there are requirements regarding the information that needs to be on the labels in Chinese. These requirements vary per product. Our specialists can help you determine the requirements, and we can take care of labelling your products according to the requirements.
The Benefits of Trade Facilitation
With trade facilitation, you can focus on marketing, sales, business development, and managing your local staff. Your trade facilitation partner takes care of the rest. Trade facilitation has two main components:
The Supply Chain Function: this covers the main trade logistics steps, like International Logistics, Customs Formalities & Certification, Labelling, and Bonded Warehousing & Distribution.
The Shared Services Function: covers the steps specific to trade facilitation, like Order-2-Cash, Legal Support & Contract Fulfilment, ERP & EDI Management, Trade Finance & Accounting, and Human Resource Management.
When you leave supply chain and shared services processes up to your trade facilitation partner, you can focus all your energy on what matters for your bottom line: developing new business and keeping your customers happy.
For more information on Trade Facilitation, download the whitepaper Entering New Markets. The Benefits of Trade Facilitation.
At Your Service
If you have any questions about trade facilitation or doing business in China, contact one of our experts or send me a message on LinkedIn.
Author Bio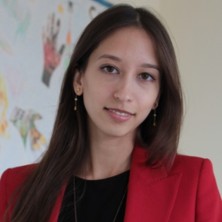 Elena Robakidze is Business Development Manager at Ahlers in China. Ahlers provides state-of-the-art logistics support in sustainable supply chain management, warehousing, projects & machinery logistics, secured transport, trade logistics, after-sales services, and data analytics. Their extensive experience and knowledge of the Chinese market make Ahlers your ideal partner for business in China.
This article is sponsored by Ahlers