Supply Chain Luminary Richard J. Sherman Shares Insights as an Industry Analyst and Observer of Market Leading Companies' Quest for Excellence
Hoboken, New Jersey, October 17, 2012 — Wiley – announced today the availability of Supply Chain Transformation: Practical Roadmap to Best Practice Results (Wiley; 978-1-1183-1444-9; October 2012; $60.00) by long time industry pundit, Richard J. Sherman. Sherman is recognized as a dynamic industry analyst and thought leader. As research director, he launched the supply chain strategic advisory services at AMR Research (now part of Gartner) and has more than 30 years' experience working with companies of all sizes and industries. His book maps out the journey to not just supply chain transformation but transforming the organization and culture to achieve operations excellence.
"The supply chain is a 'Tale of Two Cities', Leaders and Laggards", says Sherman. "The long road between them is often a gap of more than a two to one competitive advantage in virtually all key performance indicators for the Leaders. In today's global economy, companies cannot afford to languish at the tail end of the gap; a gap that industry benchmarks document has existed for more than 20 years. If you're not committed to taking the journey to Leader City, you will be buried in Laggard City."
Supply Chain Transformation: Practical Roadmap to Best Practice Results is a hands on guide to motivate your company to set off on the journey to Leader City. Sherman identifies the key to Leader City, collaboration; and, develops the architecture for building your "House of Excellence" to continue your journey to achieving leadership as a best practices resident.
"Rich Sherman has used his vast experience in Supply Chain Management to write a truly inspiring and thought provocative book", says Dave Malenfant, Vice President, Global Supply Chain, Alcon, a Novartis company. "Sherman presents several ideas that can be applied to all Global Supply Chains."
Much more than just a how-to book, it's a why-to book that is as compelling for any business person as it is for supply chain management professionals. "Change is inevitable; growth is optional." This book provides an invaluable road map to companies looking to transform their supply chains and organizations to achieve best practice results: beginning with guidance on how to make the case for change; continuing through building a
business case; winning senior management support; and, creating a process improvement culture.
• Includes real world cases and illustrations
• Offers a step-by-step road map to transforming your supply chain
• Explains how to obtain "senior management" commitment to transformation
• Covers sourcing, production, and logistics process integration points with product development, marketing, sales, and finance processes as well as emerging technologies (RFID, Cloud computing, Big Data, telematics, ERP, GPS/LBS & others)
According to Rick Blasgen, CEO, Council of Supply Chain Management Professionals and former Senior Vice President, Supply Chain at Conagra Foods and Kraft Foods, "Rich Sherman provides an easy read, good for anyone who wants an entertaining, yet thorough understanding of the supply chain profession and its importance to global commerce. Sherman presents the topic in a conversational manner that utilizes examples, stories, and easy to understand language, as opposed to industry jargon, to make the point."
One of the biggest hurdles to supply chain transformation is overcoming a culture that is resistant to change. Supply Chain Transformation helps you understand the cultural resistance and evaluate where change is needed most, and then develop the game plan for overcoming resistance to achieve best practice results. Laggards work as hard as Leaders. Wouldn't you rather be working to Win?
In his Foreword to the book, Marty Hanaka, Chairman and CEO of Golfsmith, states, "As CEO's (chief executive officers), we are reminded daily of the critical role supply chain plays in driving value. Supply chain excellence truly is at the core of our need to be lean, customer driven organizations that collaborate for the highest and best use of capital. So we are all fortunate that Rich Sherman, a truly distinguished international supply chain thought leader, has undertaken this book. Unlike so many academic approaches, you will find his work to be refreshing, practical, insightful and helpful in every respect."
Jack Crumbly, Ph.D, Assistant Professor, Andrew F. Brimmer College of Business and Information Science, Tuskegee University says, "Supply Chain Transformation can be useful in the classroom for students to understand supply chain concepts. I strongly recommend this book to anyone interested in understanding successful business strategy."
Dr. Robert A. Novack, Associate Professor of Business Logistics, Penn State University adds that "Rich Sherman has done a superb job of weaving his vast array of experiences with today's supply chain trends to explain how companies become industry leaders. The conversational tone of his book makes it an easy read for the busy executive. Sherman has clearly and methodically laid out a roadmap for supply chain transformation. I would strongly recommend this book to any company that needs to or wants to take their supply chain to the next level."
Presented in a conversational and storytelling style, Supply Chain Transformation engages readers and inspires them to undertake their own journey to transforming their business to best practices leadership. Sherman is an "infotainer" that untangles the highly complex world of supply chain management and weaves a web of collaboration vertically and horizontally across the organization and the supply network it operates in. The author serves as the guide to help any company navigate its way to Leader City and serves as the architect for the House of Excellence that the company will reside in.
About the Author
Richard J. Sherman (Austin, TX) is an internationally recognized pundit and author on trends, issues, and innovation in supply chain management, technology, and marketing. He is currently President of Gold & Domas Research (Austin, TX) and serves as Director of Strategic Development for the Council of Supply Chain Management Professionals (CSCMP). As a research director, he successfully launched the supply chain strategic advisory services for AMR Research (Gartner) and led in the development of the SCOR model, founding the Supply Chain Council, and serving on its Board. Throughout his career, Mr. Sherman has served on numerous industry committees and has held senior management positions with visionary technology firms such as EXE Technologies (Infor), Syncra (Oracle), and Numetrix (Oracle), and market leading corporations such as Microsoft, IRI (SymphonyIRI Group), Mercer Management Consulting (Oliver Wyman), DEC (Hewlett Packard), and Unisys serving clients globally. He has contributed scores of articles and speaks frequently on supply chain innovation and operations excellence. Sherman received his BA and MA degrees from the University of Notre Dame.
SUPPLY CHAIN TRANSFORMATION: Practical Roadmap to Best Practice Results; Published by John Wiley & Sons, Inc.; Publication Date: November 5, 2012; $60.00; Hardcover; 208 pages; ISBN: 978-1-118-31444-9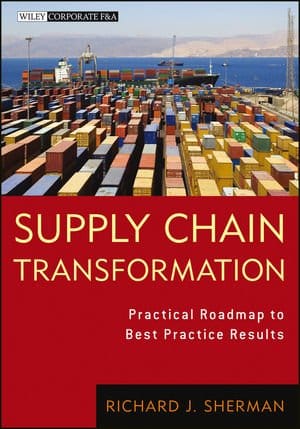 SOURCE: Submitted by Richard Sherman