Returns rates – how much is coming back?
Blame it on the quality of product, the wrong size or having second thoughts: what consumers worldwide buy and then return totals a staggering $642.6 billion per year.
To put this in perspective, the value of goods that consumers decide they don't really want would rank as the world's 21st largest economy. It is just behind Switzerland and ahead of Argentina, based on the World Bank's most recent available global economies' ranking.
The biggest reason for returns is the condition of the purchased products. They are either defective or poor-quality products. But customers also return items because they bought the wrong item or size, or have found the same product at a lower price elsewhere. Wardrobing, a form of return fraud, also explains the growing number of returns. This is when people purchase clothes, wear it and return it afterwards for refund.
Obviously, wardrobing is not a problem just for fashion e-tailers. Would it surprise you if we told you that the number of TVs being returned right after the World or European championship of football sharply goes up? Fraudulent returns in the U.S. totaled $10.85 billion in 2014, a 23% increase from 2012, according to a National Retail Federation survey. These facts and figures are based on all returns, online and offline. Let's take a closer look at e-commerce returns:
What items are returned the most?
The returns rate is 8% for items bought in brick and mortar stores. This rate jumps to 25-40% for items purchased online. The most common category of returned merchandises is apparel and shoes at 30-35%, according to Transport Topics.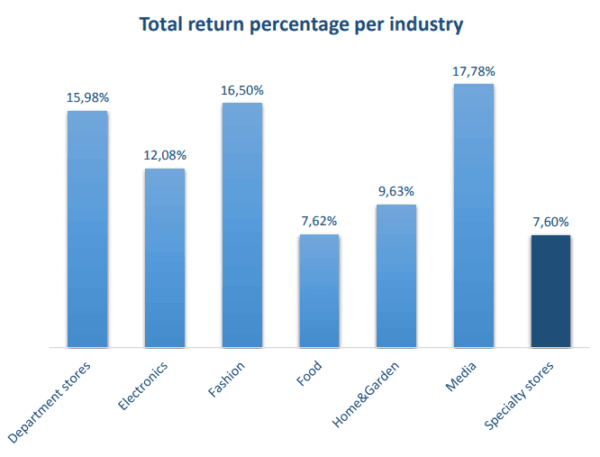 Why are items returned?
Consumers have different reasons for returning items. One of the main reasons is one that e-tailers can actually prevent themselves. 23% of consumers indicate they have sent back an item because they received the wrong item. Yikes! 22% returned an item because the received product did not meet their expectations as it might look different in the webshop. A better description, pictures and maybe a video could help prevent returns in this category. 20% of items are returned because the products have been damaged during shipping. Better packaging may be a way to prevent this, but the damage can also occur due to bad handling practices at the parcel carrier.
Return rates per company size
E-commerce Europe found that larger companies have higher return rates. Companies with more than 100 employees typically have to deal with a higher return percentage because of their leniency regarding returns. Then again, they have a larger budget to cope with returns.
Where do the return-happy customers live – return rates per country
The most return-happy customers can be found in Northern and Western Europe.
One explanation for that could be disposable income. The reasoning behind this is simple. On average, people in South and East Europe have less money to spend. If you have less money to spend, you will devote more time and effort into researching what you really want to buy. On the contrary, people in North and West Europe, who generally have more money to spend, are more likely to make impulse purchases.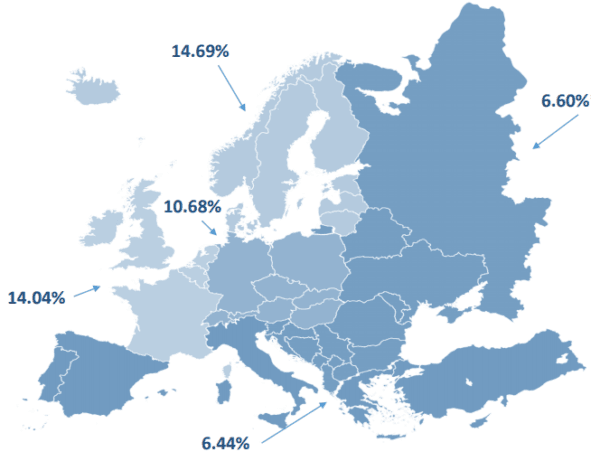 We found additional figures in a report by Twenga based on a Postnord research. Top returners live in Germany (41%), Netherlands (36%), and the United Kingdom (32%). Interestingly, Italians and Spaniards rate a 'hassle-free returns process' as the most important factor when shopping online. Yet, they have the lowest returns – only 18% in Spain and 13% in Italy.
In what state are products returned?
It is no surprise that the fashion category has the highest rate of returns. How many times have you been in a fitting room and decided not to buy an item? It happens all the time. The impact on returns depends largely on the type of customers. On one side of the spectrum is the customer that will only buy an item if he or she is almost 100% sure it will fit and looks great.
On the other side of the spectrum, we have a person that is not worried about this at all. This customer will simply order multiple items in different colors and sizes. They will keep the ones they want and return everything else. They do not care so much about the cost for the retailer or are simply not aware. This type of customer treats the online store the same as the physical store and uses their home as a fitting room.
Are returns a chance? How easy returns could increase sales
Whether e-tailers like it or not, free is still the magic word. According to the Walker Sands Future of Retail report, having both free shipping and free returns is a killer combination. 88% of consumers say they are more likely to shop online if shipping is free. 68% say they will when returns are free.
However, that is not the only important factor. Free shipping and returns are not enough. 58% of consumers say they need a simple and clear returns process. Alec Minnema, who wrote his doctoral thesis on purchases and returns management for retailers, came to a similar conclusion.
Next to free returns, he adds that the length of the period the consumers are allowed to return items is a big influence as well. The longer this period is, the higher the chances that the consumer will order an item and keep it. According to his thesis, webshops that have free returns and an extended period that returns are allowed see an increase in profit of up to 20%.
A large percentage of customers who return something are literally return-customers. According to a recent Narvar study, 95% of customers that were satisfied with a returns process said they would purchase at the retailer as well. And retailers indicated that 82% of shoppers who return items are repeat shoppers. A clear and efficient returns process can bring an online retailer additional customers, but it can also turn them into repeat customers. It is a win-win situation!
What do customers like, or dislike, when it comes to returns?
A smooth and clear returns process is important. But what is an easy return? Customers don't want to wait at home for a whole day for a courier to come and pick up the return shipment. 65% indicated that they'd prefer printing the shipping label and shipping the return themselves. With frequent online shoppers, this number even goes up to 73%. A quick full refund is also important, with no added cost for shipping or restocking, according to 65% of the respondents. Informing customers about returns options and locations would work as well.
53% of consumers indicated that they worry about finding the time to take something back to the store or having to find the nearest location to send something back to the retailer. According to the recent Pulse of the Online Shopper report by UPS, 45% has returned an item purchased online to a brick and mortar store, but 58% indicate they prefer returning something to an actual store. It is worth to mention that 75% indicate that they have shipped back items to the e-tailer, yet only 42% actually prefers to ship it back using this method.
The same research indicates that having a brick and mortar store where items can be returned increases the chance of another purchase. 66% of people that return an item in a physical store buy another item. Only 44% of people that return an item online purchase another item at the same webshop.
Dutch online retailer Castelijn has a very low total return percentage. As Daan Castelijn, E-commerce Director told Ecommerce Europe: "the most important reason for this low return percentage is that there are costs for returns. The number of orders will be somewhat lower, but it saves a lot of costs too. A different way to return products is to bring them back to the store. The chance that customers bring the products back to the store is higher when they have to pay return costs. A big advantage of this is that customers go to your store where they possibly see some new products they like." Please note that Castelijn recently opened a physical store. For pure players, returning an item in a store is obviously not an option. Charging for returns, however, is.
The effect of product reviews on return rates
Research by the Association for Information Systems shows that positive customer reviews can lead to lower return rates, higher sales after returns, and better conversion rates for online retailers. Also, when the product involvement is higher, positive reviews have a higher impact, which makes sense. Brand strength trumps customer reviews. The research also found that weaker brands have more to gain from positive reviews than strong brands. In the end, it is all about trust.
Tips to lower return rates
Ask for customer feedback: encourage customers to not only specify the reason why they are returning an item but also provide feedback which can qualify the reason for returns.
Look at products with high return rates: identify particular products which have a high return rate to understand whether there are potential quality issues that can be addressed.
Allow customer reviews: allow customers to provide product reviews and whether the product was correctly described.
Good product visualization: add pictures which accurately represent the quality and features of the product and show all important elements. 360- degree views can really help with this.
Use video: product videos are a great tool for providing information to potential buyers.
Size guides: make sure that you clearly display sizes. If you sell cross-border, give the opportunity to view the local size metrics.
I wrote this blog post for Paazl, the leading provider of logistics technology for online retail. It appeared on the Paazl blog first.