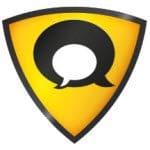 Getting messages from one person to the other has been the main job of postal companies ever since the Romans started their Cursus Publicus, a state-run messaging service established by Emperor August. Since then, mail and messaging have been mainly a state-run thing. It wasn't until the end of the 20th century that governments decided to start privatizing the state-run postal companies to become more efficiently run corporations. The German government was no exception and privatized the Deutsche Bundespost in 1995. Deutsche Post AG, better known as Deutsche Post DHL, has since become one of the world's largest logistics companies.
Deutsche Post's services are all about storing and moving physical goods, parcels, and letters, making their most recent move a shocking one. 
WhatsApp With That?
In the past years, the concerns about privacy and ownership of personal data have been growing. Stories about the NSA snooping in messages, Facebook storing tons of data on what you are doing and where, and even recording sound with your phone microphone when you are typing an update. When Facebook bought WhatsApp earlier this year, rival service Telegram saw an instant increase of new users registering. I don't know about you, but I still use WhatsApp. The simple fact is that the people I send messages to are there, and if I change to another application, they need to join me there. And there is always the question: what will that company do with my data?
This is where Deutsche Post has jumped in. They have just launched their own WhatsApp-like messenger: SIMSme. A description of the new app taken from today's news release:
Deutsche Post has launched a free messaging service. With the "SIMSme" app, customers can securely send text messages, photos, videos, and contact and location information. The distinguishing feature of SIMSme is its high level of data protection. All messages are automatically encrypted by the sender and can only be decrypted by the recipient. This so-called end-to-end encryption makes eavesdropping by third parties impossible. All data are stored only on servers in Germany, and messages are deleted from the servers after delivery to the recipient.

Whereas the terms of service of other messaging services call for the customer's consent that all content – including photos – can be distributed without limitation in any media format and by any means, SIMSme users retain their rights.

Deutsche Post guarantees that they will delete any message from their servers after 30 days, or sooner if it is delivered. People that need even more discretion can add service to SIMSme for EUR 0.89, with which they can send self-destructing messages, which the receiving party can't save. Dein Sicherer Messenger – Your Secure Messenger.
"For over 500 years, Deutsche Post has been entrusted with the secure and confidential delivery of information. Now this also applies for the popular instant messages between smartphones. We guarantee the highest level of data privacy according to strict German laws, without requiring any extra effort on the part of the user. We provide SIMSme free of charge and do not use the service for advertising purposes as other services do," said Marco Hauprich, Senior Vice President Mobile & New Media at Deutsche Post.
Another line in the press release reads: The use of SIMSme as a secure but paid communications tool for businesses is a possible future development.
Only If You Join Me
I have installed it on my phone but am having some issues with confirming my registration. The app is advising me to try later. I will, and I will update this post when registration is successful, and I've had a chance to play around with the app.
[UPDATE] The App works fine, but I have found (as with other alternatives to WhatsApp) that it can only be a success if everybody moves to the alternative platform with you. After the outrage that followed WhatsApp's sale to Facebook, a lot of people joined Telegram, for example. I got a lot of notifications from people joining there. But now, in December of 2014, I'm still using WhatsApp, and so are most of my friends. So for me personally, it's not the new go-to app for messaging, but that doesn't say anything about the service itself.