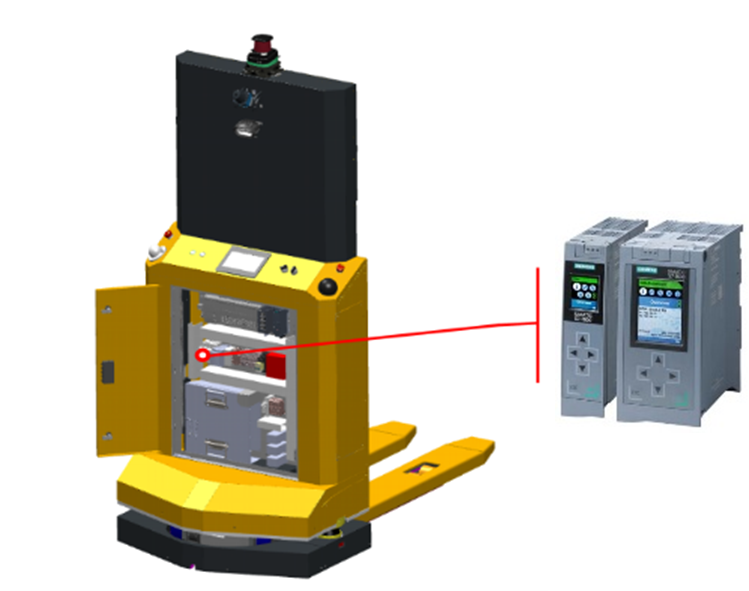 With the growth of large footprint warehouses, distribution centers, and large 3PLs, one of the most crucial decisions in the initial design phase of a machine is the selection of the control system.
Traditionally, PLCs have been used for the automation of industrial processes and the control of machinery. PCs have been used for operations related to non-critical processes, but which required working with larger volumes of data and fast communications between devices without criticality addressing issues such as latency time.
In recent years, the evolution of PCs and PLCs have reduced the differences between them, however, there are relevant distinctions for in-process automation and industrial internet of things (IIoT).
Navistar, for example, chose Kivnon's automation solutions for its new manufacturing plant in Texas. As part of its growth strategy, the U.S. truck and bus manufacturer built a new 900,000-square-foot manufacturing facility in the San Antonio area that has the capacity to produce Class 6-8 vehicles. Adapting their new assembly lines to Industry 4.0 standards means all machines and devices are connected and monitored through an industrial internet of things network.
IIoT-based AGVs are connecting the AGV through the internet which is part of industrial 4.0. The automated guided vehicle follows a given allocated path. This happens with the help of Arduino and differently configured sensors.
Key factors and considerations
When comparing control systems, we must evaluate their performance with respect to different criteria. When analyzing system operations, the focus should be on how the system will run and how instructions and tasks are processed. The standard PLC has an embedded real-time operating system with a dedicated processor that ensures a high degree of control system reliability.
Since the task of the PLC is only to handle automation and/or a process, it does not need to run other utilities such as antivirus programs or system updates.
Although the evolution of the PC and specifically the IPC (Industrial PC) has made it a much more reliable device. PLCs are still much more robust in terms of electromagnetic interferences, software performance stability, and fail-safe hardware.
Another factor to consider is the ease and cost of serviceability, including the repair and replacement costs over the life of the controller. For a PLC, external devices can be replaced with ease while the system is in operation.
Although the PLC and PC can both offer an array of Fieldbus options, the PLC has many of these options built-in where the PC would need additional cards and drivers to provide a comparable offering. If extra devices or sensors are needed in an AGV/AMR, it is easier to integrate in a PLC architecture.
PLC may prove the best solution for deterministic industrial protocols and field buses (including fail-safe requirements) for sensors and actuators of an AGV/AMR.
Integration
Whenever it is necessary for an AGV/AMR to communicate with other industrial devices such as robots, production lines, or logistics systems, PLC is a great solution.
PLC has built-in solutions for integrating it in industrial environments, with less effort than PC that typically requires gateways or extra hardware and software libraries for it.
Security
PLC is less exposed to unauthorized access from the outside world. The risk related to cybersecurity in PLC is negligible with respect to a PC. If a cybersecurity problem occurs in an AGV/AMR which is controlled by a PC, it could cause fatal accidents to users.
Safety
When there is human interaction with a potentially dangerous machine, safety standards in a factory are crucial to machine acceptance. Safety functions outlined in standards such as ISO 3691-4 (Industrial trucks – Safety requirements) can be performed in PLC-based architecture. This is not possible with a PC.
Both PC and PLC each have advantages and do not have to be mutually exclusive solutions. For control-critical and safety-related processes, PLCs are the best choice, but PCs and especially IPCs have interesting complementary features. Not all AGVs/AMR vendors use PLC for control and safety purposes which is worth considering. IPC used as a complementary device for data acquisition and processing provides a gateway functionality for IT protocols.
This conversation must be part of the logistic expansion plan as more and more operations have mandated Industry 4.0 initiatives for full implementation by 2024.
Kivnon will be exhibiting at MODEX 2022 in Atlanta from March 28 – 31 at Booth #C5488.
Kivnon USA is a leading Automated Guided Vehicle supplier with Farmington Hills, Michigan headquarters.
Follow KivnonUSA on Twitter or contact Kotzian on LinkedIn.
Complete the 2022 ROI Kivnon AGV/AMR inquiry form.
This post is sponsored content