If you look at the total greenhouse emissions worldwide, then transportation accounts for about 12 percent. Divided by subsector, road transportation is responsible for 75% of those CO2 emissions. No wonder there is a big focus on creating more sustainable modes of transportation. One of the large car manufacturers in the world has just released its vision on a sustainable future for transport, and it is fueled by Hydrogen.
Hyundai Goes Hydrogen
Hyundai recently unveiled its plans for lowering the carbon footprint of the transportation industry. And the plans are ambitious: Hyundai will electrify all new commercial vehicle models, with fuel cell electric or battery-electric powertrains and the application of fuel cell systems, by the year 2028.
"Hyundai Motor Group's vision is to apply hydrogen energy in all areas of life and industry such as our homes, workplaces and factories. The goal is to make hydrogen readily used for everyone, everything, and everywhere," said Chairman Chung at the Hydrogen Wave online global forum. "We want to offer practical solutions for the sustainable development of humanity, and with these breakthroughs, we aim to help foster a worldwide Hydrogen Society by 2040."
Hydrogen versus Batteries
Most of the vehicles we see on our roads today are battery electric vehicles. So what is the difference between a battery electric vehicle and a hydrogen-powered vehicle? I will take you through some of the main differences.
The efficiency of an energy source used to power vehicles can be expressed in a value called energy density. And energy density is one of the challenges truck manufacturers face when designing a truck with a battery-electric power train. You need 27 times the amount of lithium-ion to produce the same amount of energy as that same amount in diesel. With hydrogen, this has been reduced to around four times the amount of diesel.
There are two other significant advantages when it comes to hydrogen. You can fill a tank of hydrogen in minutes, so in a matter of minutes, the truck is on the road again. A battery-electric truck needs to charge for hours and is out of commission during that time. The Hydrogen fuel cells create the electricity as needed, while the batteries release the electricity they have stored.
In terms of infrastructure, there is currently a wider availability of charging locations for batteries than hydrogen filling stations. When left up to companies like Hyundai, this will soon change.
The Truck of the Future
I watched the video in which Hyundai announced their new hydrogen strategy with interest, but my heart skipped a beat when I saw their design of the hydrogen truck of the future. They are calling it the Trailer Drone.
The trailer drone is an autonomous e-Bogie, a name that comes from the subframes that train cars ride atop. It makes the truck look more like a train car, so the name makes sense. It has fuel cells that are powered by hydrogen, and they have a range of up to 1000 kilometres on a full tank.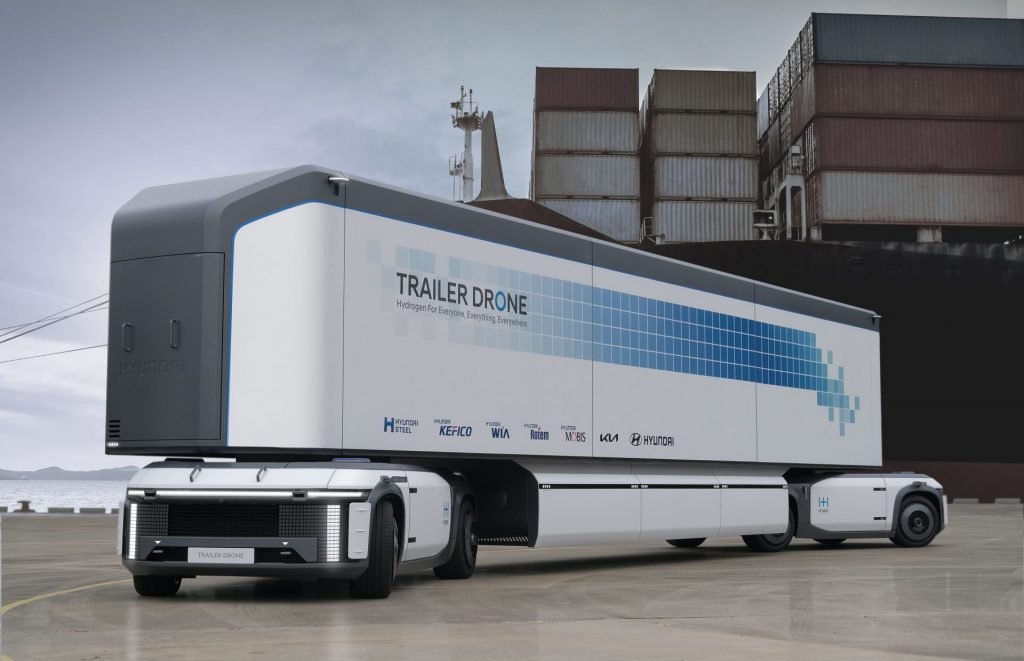 The e-Bogies can be used separately or can be combined to transport larger objects. They will also be able to interoperate, which Hyundai calls Cluster-Mode. In cluster-mode, the trailer drones can form platoons, increasing the amount of freight that can be transported on our current road systems.
The e-Bogies could be used as a platform on which to built many different transportation solutions. From search and rescue to last-mile delivery. Its flexibility and long range create endless possibilities. I can't wait to see the first units out on the road.
More on Zero-Emission Transportation
If you want to learn more about zero-emission transportation and how we don't have to wait for trailer drones to hit the road: listen to this episode of the Does Logistics Matter? Podcast, in which I talk to the founders of zero-emission transportation company BREYTNER: Marie-Jose and Jeroen Baartmans.
For more on the Hyundai Trailer Drones and other Hyundai hydrogen innovations see the video below: