I can hear most of my non-Dutch readers think: Sji-what?? Sjipit. It's Ship It written phonetically in Dutch. It may be the first time you hear about it, so let me start with how I first heard about it.
I love LinkedIn and browse my timeline multiple times a day. It's nice to see what's happening with your connections, and it's a great source for interesting articles. It was an update in the first category from one of my connections, Willem van Veenendaal, that brought Sjipit to my attention. It was about logistics, freight, efficiency, the sharing economy, and an app/online platform. My interest peaked, and I sent him a message right away to ask him if he wanted to have a cup of coffee to tell me more about it.
On a sunny morning in July I met Willem van Veenendaal and his partner Arnoud van Werkhoven outside a sidewalk cafe in Rotterdam. When the waiter came and put the coffee in front of us, Arnoud, who founded the company, held up his cup and said: "This is what it all started with", and he told me how he got his idea for Sjipit. It was on a Monday morning at work at the coffee machine where he met a colleague. They talked about the weekend they both had, and Arnoud spoke about how he bought an office chair on an online marketplace from somebody in Amsterdam. He was delighted with his new chair but did not like that he still had to find the time to drive the 120 km to Amsterdam to collect the chair from where he lived. His colleague, in the meantime, told him about his great but rather expensive weekend. And then something hit Arnoud:
"As I was drinking my coffee, it suddenly hit me. My colleague is from Amsterdam, so he could have picked up the chair for me, as the trip from Amsterdam to the office is a regular one for him. I would even be willing to pay him something for it." Sjipit was born.
Carpooling for goods is what best describes the new service. Sjipit is a digital marketplace, no, carpool-place, where people that have something to ship from A to B go to find somebody that is already driving from A to B. "So many vans and trucks are driving around with room to spare. Why not give them the option to make some money with space? They will increase their efficiency. As well as lower their impact on the environment," Willem adds.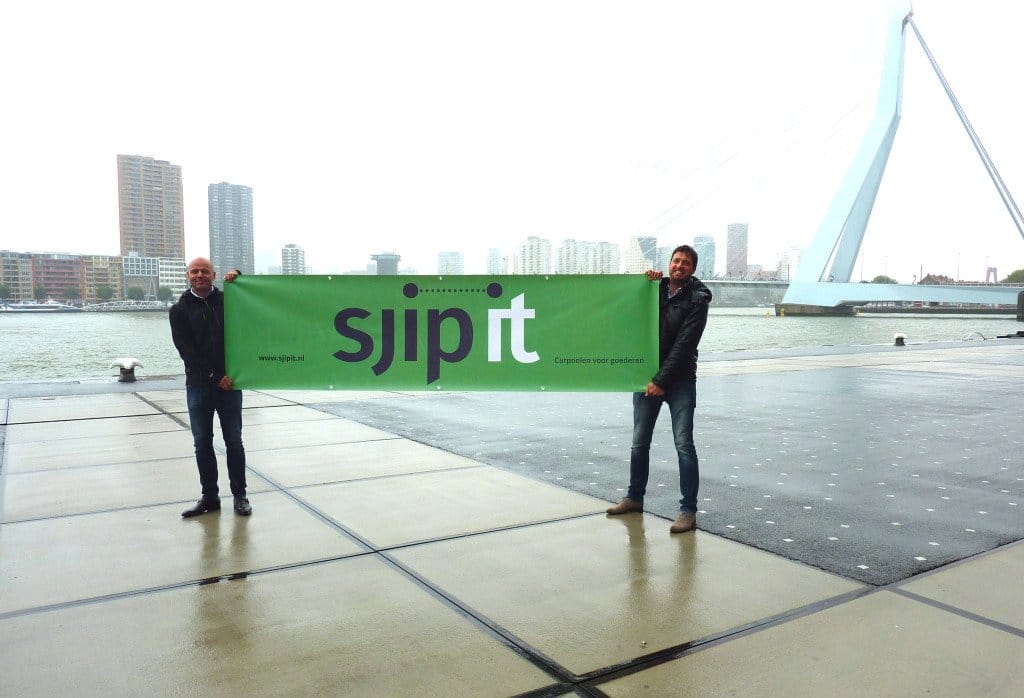 Willem (left) and Arnoud (right) in Rotterdam near the Erasmus Bridge in Rotterdam
Sjipit is developing an app in which both drivers and shippers can register. The shipper enters what needs to be transported, where it is, where it needs to go, and when it needs to be there. Sjipit then finds a driver already going that route and will connect the shipper and driver to work out the details, including the cost. This is a fully automatic process; the shipper gets a notification when a driver has been found. That is where it ends for Sjipit. They make the connection and let the driver and the shipper work out the details. Drivers need to be registered with the Chamber of Commerce, and a system of reviews should weed out any bad apples.
Flexibility is key to this new service. Flexibility for shippers, who can connect to a driver when they need to, and flexibility for drivers: they can respond to a shipment request when they have room to spare in their vehicle.
When I asked how Sjipit intended to make money, Willem explained it would be subscription-based: "Shippers can request a shipment for free. It will be the drivers that will pay a small subscription fee for receiving shipment requests from Sjipit, as they are the ones that the shipper will pay."
The initiative has not gone unnoticed: Sjipit has been nominated for the Accenture Innovation Award in Seamless Travel and Transportation and Seamless Cities.
Sjipit will officially launch in 2016.