I love warehouses. If I see big buildings with almost no windows and loading docks, my curiosity is piqued. I want to knock on the door and have a look inside and see what is going on. With most warehouses, what goes on inside is the most interesting thing about them. Warehouses tend to look bland and boring, especially to the non-logistical eye. Prologis organized a competition last year called the Prologis 2030 Design Awards. They invited both engineers and architects from Belgium, The Netherlands, Germany, Austria, Sweden, Norway, and Denmark to enter their designs. Designers were encouraged to be creative and innovative but above all sustainable. They were asked to redefine what warehouses will look like in the future. And so they did…
Honourable Mention – Top Sustainability
Let's start with a design by German architects pinkarchitektur that got an honourable mention for its highly sustainable design. They used wood and transparent EFTE sheets and filled the building inside and out with systems utilizing natural energy sources like the sun and the groundwater. I liked the night shot the best: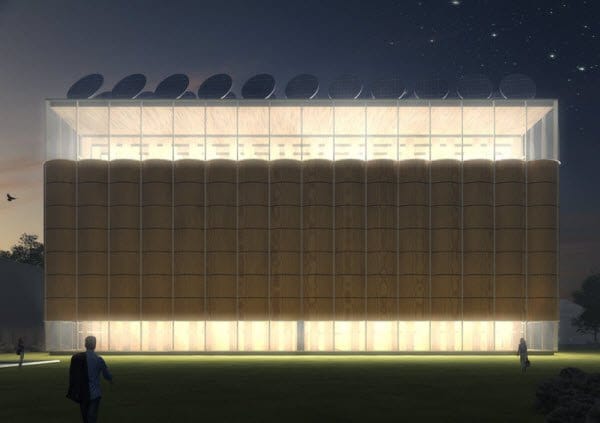 Second Prize – Underground
The design that has won Second Prize is also designed by architect Antonis Perpatidis of the German OFFICETWENTYFIVEARCHITECTS (O25). O25's design placed the actual warehouse underground (the part that usually looks unappealing), the loading docks partly submerged, and the offices above ground. The design tries to blend with its surroundings, and where there is a structure in plain view, it's something to look at. This design also features numerous environmentally friendly systems. This a winter impression, including a zeppelin delivering goods: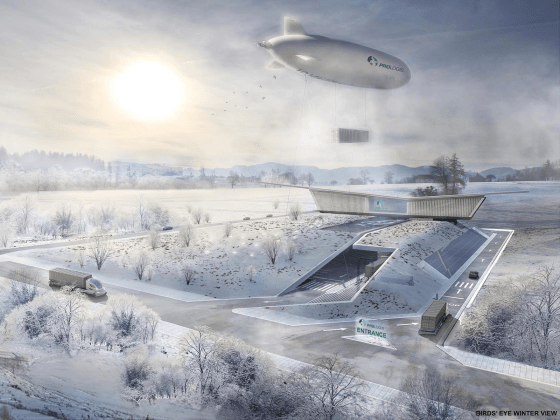 First Prize – Up and Over
Germany really outdid itself in this competition as the winner is also from Germany. It was a combined effort of planning office Kruschina and Fluxo Interaktive Architektur. The design places the warehouse over a highway, which is actually a great idea. The space above a highway is wasted anyway, so why not store goods there. It also provides immediate access to the highway for the trucks delivering and picking up goods: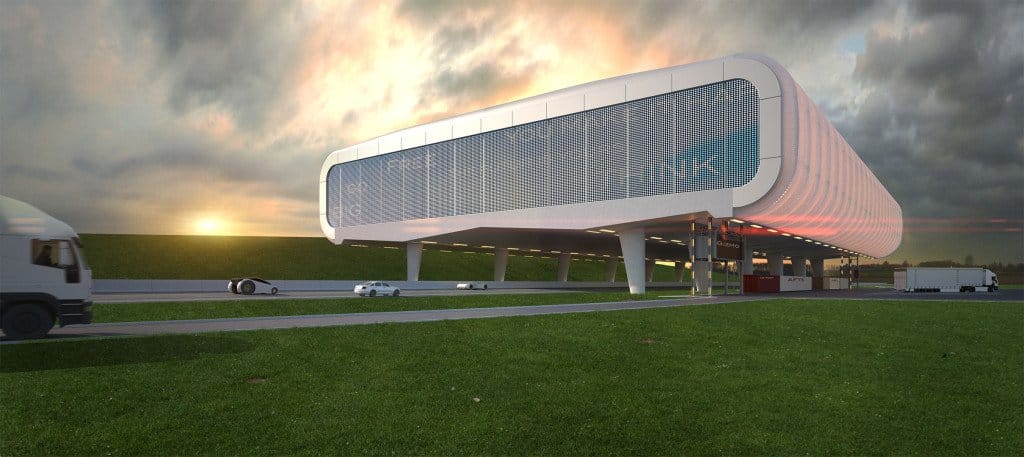 Afterthoughts
Can each of these buildings be built now? No, probably not. But that was not the goal of the competition, which was to find new ideas for developing logistics buildings. Building underground is much more expensive than building above ground, and one can question if logistics operations have the money to pay for that additional cost. Building over a highway has implications as well. Putting a heavy building like a warehouse on pillars is quite a feat, as the loads on warehouse floors can be huge, with layer upon layer of heavy pallets being stacked in racks. The first building, which won the honourable mention, seems the most feasible in the short term. It doesn't look as good as the other two, but let's face it: the impact of logistics on the environment is huge, so it makes perfect sense to store goods in a building that is as sustainable as possible.