Throughout the world, there are problems which need inventive solutions. Problems which can't be fixed with traditional methods. In these cases, it can often require something new to come along, which hadn't been available before. Concrete Canvas has proven to be that solution to a variety of problems over its 12-year existence.
The company, Concrete Canvas Ltd, was founded by two university students who set out to create a shelter which could be rapidly deployed in areas which had experienced humanitarian disasters. William Crawford and Peter Brewin created Concrete Canvas, a Geosynthetic Cementitious Composite Mat (GCCM), to form the outer layer of their shelters which would work alongside an inflatable framework.
Concrete Canvas only needs to be hydrated and then left to dry to form a fully hardened concrete layer. With this, there are several key logistical and environmental benefits that have resulted in Concrete Canvas being used in over 80 countries worldwide on various projects.
So, what are some of the logistical and environmental benefits of GCCMs such as Concrete Canvas? If we look at the shelters on their own to start with, they have many key advantages over tents or other temporary shelters typically associated with disaster relief situations. While heavier than a fabric tent, the Concrete Canvas shelters are still easy to transport. The shelters are contained within a box, making them easy to load onto a lorry for transportation.
Once at a site where it is needed, just two people can set up the shelter. When considering this shelter can provide an internal area of 25m2 or 50m2 depending on which variation is used, requiring only two people to set up the shelter is extremely impressive. The other pieces of equipment needed to deploy the shelter are an air pump to inflate the inner structure and a vehicle or winch to help pull the shelter out of the packaging as it starts to inflate. When considering the harsh environments these shelters are designed to be used as a workspace or field hospital, for example, providing up a secure and sterile environment that is then usable just 24 hours later, a significant advantage over traditional tents.
The security of these shelters is also beneficial when it comes to logistics. As the shelters come with lockable doors, they offer a much more secure storage facility than traditional tents. In a disaster relief situation, having a secure place to store supplies or medicine is vital. The outer layer of the shelter also becomes completely hard, so it is more resistant to damage and vandalism than a traditional tent.
If we look at GCCMs, when not used as part of a shelter, there are other logistical benefits. When working on a civil engineering project in a remote environment, moving machinery and workers to a site can be vital in a project's success. Concrete is the most used construction material in the world, typically it requires mixer trucks to produce transport and maintain its liquid state before being poured or sprayed into place. With GCCMs there is no such need for mixers. Concrete Canvas is also known as Concrete on a Roll TM as it arrives on site in bulk roll format which can be cut to size, or in pre-batched rolls.
This has several other logistical benefits. Firstly, no specialist machinery is required to cut Concrete Canvas. This means any project can use Concrete Canvas without spending time and money bringing other machines to site. GCCMs will remain flexible while they are dry and are easy to manipulate into the shape required for a project, such as matching ground profiles for channel lining or slope protection. Because of this, workers do not need specialist training to install Concrete Canvas, which again allows a project to avoid having to bring in specialist workers to help; instead, a client's existing contractor team can install the material with minimal training requirements.
Secondly, it may be assumed that the biggest logistical challenge when installing Concrete Canvas is the water required. As GCCMs can be installed easily in remote and difficult to reach places where traditional concrete cannot, this could lead to questions about where the water needs to come from. You can use local water sources or bring water to site in truly remote locations, but the most important thing is that the Concrete Canvas is fully hydrated, which will allow it to set correctly.
Logistical questions may also be asked about how effective the shelters and Concrete Canvas itself will be in the long term. With the shelters, they are directly compared to traditional tents. While tents are cheaper, they do not offer the level of security and durability that a Concrete Canvas shelter does. These shelters have a life span of over ten years which makes them ideally suited to longer-term projects, and it removes the logistical difficulties of bringing in new tents and moving items between them should any tents be damaged. The Concrete Canvas on its own has a life expectancy of over 120 years, as certified by the British Board of Agrément, which indicates just how durable GCCMs are. This helps avoid continual repairs which may be needed with traditional concrete, which is prone to cracking, but it also helps logistically and environmentally. Without the need to produce new concrete and then go through bringing mixers and workers to the site, time and money are saved, and increased environmental impact is avoided.
The environmental benefits of Concrete Canvas go further than just the reduced CO2 from avoiding the need to transport mixers and large numbers of workers to a site. The UK Environment Agency has used Concrete Canvas itself as a more environmentally friendly concrete alternative. It has a low carbon footprint and is low mass compared to traditional concrete. This is exemplified by the fact that one pallet of Concrete Canvas can cover the same area as two 17-ton mixer trucks.
Overall, Concrete Canvas Ltd produces a product which either when used on its own, or as part of a shelter, offers significant environmental and logistical benefits. Concrete Canvas's adaptability has even allowed it to be used for artistic and architectural projects alongside its more well-known civil engineering uses.
Author Bio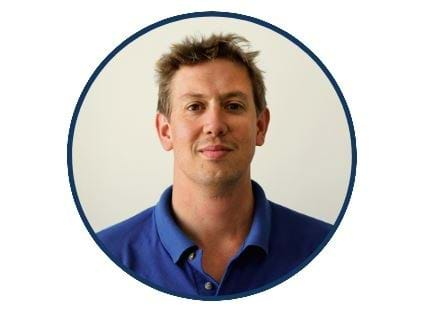 William is a director and co-founder of Concrete Canvas. He holds a degree in Mechanical Engineering from the University of Bristol and a joint Masters degree in Industrial Design Engineering from Imperial College and the Royal College of Art. Concrete Canvas head office is currently based in South Wales.
Header image credit: Concrete Canvas Ltd
This post is sponsored by Concrete Canvas