Global trade growth has increased congestion in port areas due to trucking and road freight. This congestion is caused by many trucks and other vehicles required to transport goods from ports to their final destinations. As a result, roads become clogged, leading to delays and reduced efficiency. In addition, this congestion can also lead to air pollution, traffic accidents, and other negative impacts on the environment. To address this problem, governments must develop strategies that promote efficient use of port areas while reducing the number of trucks on the roads. Solutions such as improved infrastructure planning and increased investment in public transportation can help reduce congestion in port areas and improve overall efficiency.
Relieving Pressure on Port Area Roads
Roads in port areas are among the busiest in any country. Containerships are getting bigger, which minimises the number of trips a ship needs to make. At the same time, it increases the pressure at the terminals where all these containers need to be unloaded and then transported inland.
There are different ways to transport containers inland: truck, rail, or inland shipping. For all of these modes of shipping, you need a terminal to sort, load, and offload containers. Creating these terminals at a distance from the port creates a huge drop in traffic in very busy port areas. You still need a way to transport containers from the port to these inland terminals. This is where the EagleRail innovation comes into play.
Moving Containers by Overhead Transportation System
Chicago-based transportation innovator EagleRail has designed a new way to solve the first miles from port to container distribution hub. Looking at an average port setup, the process would work like this: Cranes offload containers from a ship and place them on terminal equipment on the dock that transports them to the closest EagleRail load station. One of EagleRail's patented motorized carriers picks up the container there and transports it autonomously to the right destination.
The containers move above ground via an overhead rail system, which is usually designed to follow existing infrastructure, like a rail line, powerline, high-way or canal. Because the system is powered by electricity, it can be powered by solar, wind, or other sustainable power sources. Moving a container with EagleRail saves 60% in energy cost and 70% in emissions compared to regular diesel trucks, usually used to transport containers from the port area. And while the electrification of fleets will make trucks more sustainable, this will not solve the pressure on the road systems in port areas.
Next to the hardware, EagleRail has also developed software to manage the autonomous movement of containers, managing scheduling, routing, and load-balancing through advanced algorithms.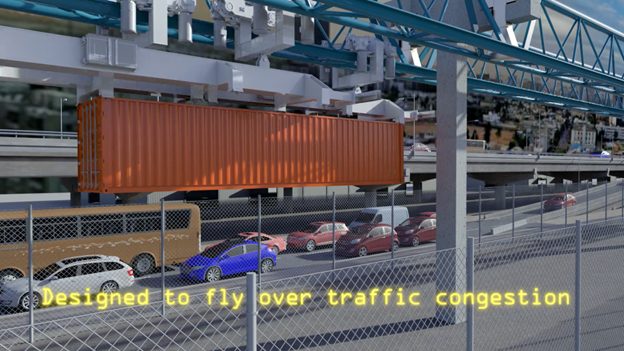 Technical Specifications
The EagleRail carriers are electric and self-driving. They can transport 20, 40, 45, and 53-foot containers of all heights, which are secured with standard twist-locks.
The containers can move at speeds of up to 20 miles per hour (35 km per hour), and the maximum container weight is 72,000 pounds or 32,500 kg.
The system is also very silent. It produces a sound of 75 dBA, which is slightly more than your average dishwasher.
The system inclines and declines as needed for uneven terrain and can move through tunnels or over water, wetlands, or other obstacles. It is narrow enough to use existing rail and utility corridors and is designed to withstand high winds, rain, or salt air conditions.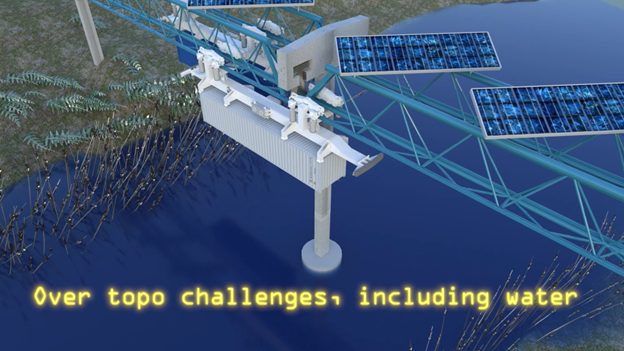 What are the Benefits?
EagleRail's system has many advantages. It reduces congestion at terminals and gates. It reduces emissions and helps improve air quality. Because congestion and waiting times go down, the system improves driver and truck utilisation and the speed of moving cargo. Finally, port terminal throughput and capacity improve.
Watch the video below to see the solution: