Cincinnati – Inspired by Reds radio voice Marty Brennaman, Cincinnati-based Total Quality Logistics (TQL) is launching its first ever "Great Shave" event. Seven TQL managers are in the running for a potential head shearing. Employees will vote with their donations for the manager they want to see with a shaved head. All of the proceeds go to the American Cancer Society's Making Strides Against Breast Cancer walk.
In August, Brennaman raised thousands of dollars for the Reds Community Fund when he shaved his head after losing a bet. Posters, like the one below, are plastered around TQL offices across the nation to give employees a sneak peak at what the 'powers that be' will look like without their hair.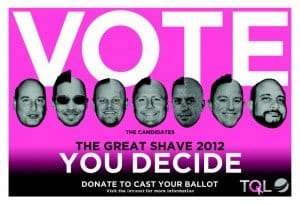 From left to right: Rob Wilson, Cincinnati; Soloman Mohamed, Charlotte, N.C.; Jeff Carper, Cincinnati; Scott Green, Cincinnati; Rick Borkowski, Cincinnati; Dennis Ferguson, Tampa, Fla.; Robby Kocchar, Cincinnati.
If TQL employees raise more than $5,000 toward the cause, two mystery TQL Vice Presidents also have agreed to take a turn in the barber chair. Voting takes place October 15-24.
TQL has dubbed the month "Pinktober" and the Great Shave is one of several fundraising events taking place. TQL collected more than $13,500 to fight breast cancer last week alone through its annual Loads for a Cure campaign. A Pink Patio Party and check presentation to the American Cancer Society will wrap up the month's events on Thursday, October 25.
About Total Quality Logistics
Total Quality Logistics is a privately held company founded in 1997 that connects consumer product and industrial goods shippers with truck operators that transport freight to market destinations across North America. The company's more than 2,000 employees identify the right trucks for particular freight loads, negotiate rates, and ensure on-time delivery. TQL was the first freight brokerage in the nation to introduce mobile freight finding applications to the trucking industry. The company's investment in industry-leading technology and its insistence on honest, straightforward communications has made it the third largest freight brokerage in the nation and a nationally recognized Best Place to Work. TQL's corporate headquarters is located in Cincinnati, Ohio, with satellite offices in 12 additional cities across the nation. To learn more, visit www.TQL.com.
SOURCE: Submitted by TQL