The impacts of COVID are varied and far-reaching. Across industries and verticals, many businesses are figuring out how to adapt their business to the different changes brought on by the global pandemic. It makes sense, then, that new technologies are arising daily to help companies of all kinds to adapt to these changes.
According to a recent survey from the National Bureau of Economic Research, approximately 50% of Americans are now working remotely. As a result, they face new challenges that affect the way they work – including creative problem solving, maintaining productivity levels, and collaboration. While remote work might be here to stay (according to an IBM survey), industries that serve as essential businesses must find ways to address new problems while still serving their customers efficiently.
Professionals in the trucking industry specifically need to find ways to keep their drivers safe, execute contracts seamlessly, and keep their internal workflows in excellent shape. It is crucial that all aspects of the supply chain – trucking included – find solutions that keep their business going in a time of unprecedented uncertainty. Here are a few tools and best practices to apply to ensure that things continue to run smoothly:
Using Clickwrap Agreements
Pen and paper contracts and PDF-based eSignature agreements are standard practice for the trucking industry. However, as COVID necessitates a reduction in face-to-face and contact contracting, these methods are no longer tenable. A good solution here would be clickwrap contracts. A clickwrap agreement is one that a user or client can click a button or check a box to indicate their acceptance. These types of contracts are best for standard agreements – ones that don't require negotiation and can be presented as is to the signer. Agreements like MSAs, employee agreements, and terms and conditions.
Automate Repetitive Workflows
With new and different challenges and concerns on your plate, some repetitive processes that were mild pain points before have become glaring thorns in your side that need to be addressed. One of them is handling repetitive processes in your workflow. Workflow Content Automation (WCA) is a growing category of technology businesses in the trucking industry should leverage. Its primary purpose is to automate repetitive processes. For example, the documents associated with high-volume, low-value transactions within your workflows can be automated by using clickwrap agreements. Contracts like NDAs, liability waivers, or contractor agreements can be turned into one-click contracts and automated so that you don't have to spend too much time attending to them, while still maintaining compliance.
Use COVID Waivers to Collect Consent at Scale
As your drivers stay on the road to fulfill the essential needs of the supply chain, it is important to protect them as much as possible while also highlighting the potential risks of exposure to COVID. Enter: liability waivers. A liability waiver is a legal agreement that must be accepted before undertaking the task outlined in the waiver. Because of the nature of coronavirus, in-person signing is not feasible, and traditional eSignature solutions break at scale. One-click contracts – like clickwrap or embedded signing – are a suitable replacement that are just as legally sound without all the hassle of traditional signing methods. These agreements can also be deployed via text or email, it allows you to meet the signers where they are and collect consent more quickly.
The world is in the middle of a massive change event, and some of the changes are here to stay. Help your business to maintain operations while also looking ahead by implementing these tips and tools. Use clickwrap agreements for quick, efficient, and contactless signing, automate your repetitive processes with workflow and content automation technologies, and collect consent at scale using COVID waivers that can be presented to signers on the go. These solutions maximize efficiency in your business while eliminating unnecessary content, and help your business continue to move forward despite challenges.
Author Bio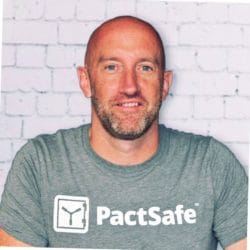 Brian Powers is the founder and CEO of PactSafe and a licensed attorney. As the CEO, Brian leads the strategic vision of the company's high-velocity contract acceptance platform. Prior to founding PactSafe, Brian's law practice focused primarily on representing the transactional needs of tech companies. Brian is a frequent speaker, instructor and author on topics ranging from clickthrough contract acceptance to privacy-related consent management.
This blog post is sponsored content