The Netherlands are a hotbed of mobility innovations. We have to be. Just look at the size of our country, the number of people that live there, and the amount of freight moving through it. Thursday September 28 mobility and energy innovations will be the main subjects at the Smart City 2017 event in the Dutch city of Eindhoven. On that day government representatives, scientists, and entrepreneurs specialized in innovative energy and mobility solutions will meet to talk, discuss, and exchange knowledge and ideas.
LogisticsMatter is media partner of the Smart City 2017 event. Logistics is all about getting the right goods, to the right place at the right time, and preferably at the lowest possible cost. Oh, and we may want to keep an eye on environmental impact as well. Most of this is done by vehicle. Fuel costs are between 20-45% of the total transportation costs and fossil fuel powered engines have a negative impact on the environment.
Fresh Air and No Congestion
With that in mind both mobility and energy are important subjects. Cities are getting increasingly busy. The number of people living in cities is going up, which increases not only the movement of people, but also increases the movement of goods. This means more vehicles moving in and around cities causing congestion and air pollution. I live in a city myself and both these effects are clear and present. Both governments and companies are looking into new ways of transportation to decrease these negative effects.
Smart Logistics
Rotterdam, for example, is the home base for the first 100% electrical trucking company in the world. In an increasing number of cities parcel carriers deliver the growing number of packages with electrical vehicles or bikes. The same goes for some of the retail players. Dutch online grocer Picnic for example uses electrical vehicles to deliver groceries.
Baby, You Can Drive My Car
But let's not forget private citizens as well. They also contribute to congestion and negative environmental impact. There are an increasing number of electrical and hybrid personal vehicles on our city roads which decreases the negative impact on the environment and contributes to a better air quality and less noise as well. But electric or not, the vehicles are still crowding the streets. Will car sharing solve part of this problem in the future?
Let the Experts Explain
It's subjects like this that have my attention when it comes to the Smart City conference. I'm looking forward to hearing supply chain and city logistics expert Walther Ploos van Amstel speak on smart logistics solutions. The same goes for Dutch postal company PostNL's Rogier Havelaar who will talk about their smart city solutions. And let' s not forget Prof. dr. ir. Maarten Steinbuch, who will present his vision on mobility and the smart city of the future.
There will also be interesting companies exhibiting their solutions at the event. I'm looking forward to two innovations in particular. Lightyear will be present with a virtual reality experience of their Lightyear One. The Lightyear One is a 100% electric vehicle which will have a range of 800 kilometers and will actually charge while driving. The Solar Team Eindhoven will present an actual prototype of their Stella Lux solar powered vehicle, which is a family sized car with a 1000 kilometer range. That vehicle actually generates more energy than it uses!
For more information please check out the Smart City website. Please note that the event and the website are in Dutch.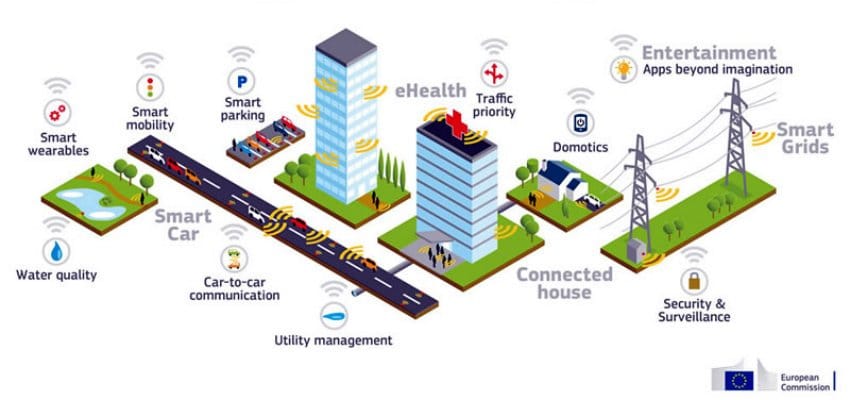 Image source: https://et.wikipedia.org/wiki/5G