To get a better view of global air and ocean trade, Stifel has partnered with Transport Intelligence to create the Stifel Logistics Confidence Index (LCI), a monthly survey of international shippers and forwarders that measures freight activity across several European-based trade lanes. Please find this month's results below.
Month over Month Decline in Logistics Confidence
The Stifel Logistics Confidence Index saw a marginal month on month decline in its May results, as an improvement in air freight confidence was negated by a slightly greater decline in sea freight.
The sea freight industry looks to be heading for another year of losses, according to industry consultants Drewry, who stated: "Carrier profit margins this year will be influenced by big swings on both prices and costs, but as things stand carriers will lose between $6bn-$10bn this year".
This followed on from the release of Q1 results from a number of carriers, including Maersk Line and NOL. A further negative indication of the market's performance was the decision of CMA CGM to pull its 18,000 TEU container vessel, the Benjamin Franklin, from Transpacific trade routes, after just five months of service. The company cited weak market conditions as the reason behind this decision, and announced that it would be redeployed to the Asia-Europe trade route.
With regards to the air freight market, the picture was also negative in the first quarter, as global freight tonne kilometers (FTKs) declined by 2% compared to the previous year. This was despite capacity growth of 6.9%, as measured in available freight tonne kilometers (AFTKs).
Nonetheless, there were positives. Despite the tragic events in Brussels, Airports Council International (ACI) reported that freight traffic across Europe was up by 2.1% in Q1 2016, when compared to the corresponding period during the previous year. IATA saw FTK growth of 1.3% in Europe during the same period, with the Middle East also improving, by 2.4%.
Nonetheless, the largest region by market share, Asia Pacific, saw FTK declines of 5.2% throughout the same period. North American FTKs also contracted, by 1.8%.
Improvement in Air Freight Confidence
The air freight logistics confidence Index gained 0.4 points in May 2016, totalling 50.0. This result is 9.5 points below that for May 2015, and 5.7 points lower than in May 2014.
The present situation results rose by 1.2 points to 47.2. This was chiefly derived from a 3.2 point gain in the Europe to Asia lane, which was nonetheless the poorest performing of the lanes at 42.1. Two of the other three lanes noted gains, with Asia to Europe the exception, amounting to 44.4 after declining by 1.0 points. Europe to US continued as the strongest lane, rising 1.5 points to 54.5. US to Europe gained 1.2 points to 48.4.
In the expected outlook, the results by lane were almost unanimously negative, aside from a 0.1 point gain on the Europe to Asia lane. Asia to Europe fell the furthest, with a 1.3 point decline to 51.3. Meanwhile Europe to US declined by 0.5 points to 55.3, and US to Europe lost 0.7 points to 54.2.
Decline in Sea Freight Confidence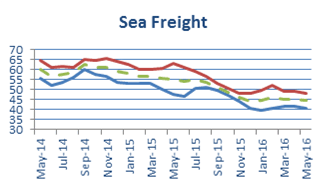 The logistics confidence Index for sea freight declined to 44.5, precipitated by declining confidence in both the present and expected situations. The present situation fell by 0.9 points to 40.7, whilst the expected situation fell 0.7 points to 48.3.
In the case of the former, three of the four lanes saw month on month declines, led by a 1.5 point fall on the Europe to Asia lane, which has hit its lowest ever point at 32.8. In addition, US to Europe declined by 1.3 points to 41.2, whilst Asia to Europe fell 0.9 points to 38.7. Europe to US was the only lane to buck the trend, with a 0.3 point improvement over April bringing the total up to 51.5.
The expected situation Index for sea freight also fell, losing 0.7 points against the April total. Whilst a significant 2.9 point gain saw the Asia to Europe line rise above 50 points to 50.7. Even greater declines in the Europe to US and US to Europe lanes, of 3.1 and 3.6 points respectively, offset this. The remaining lane, Europe to Asia, saw a 0.2 point decline, amounting to 43.7.
Visibility Most Important IT Capability
The May one-off question came in two parts; asking respondents how important IT is as a factor in their selection of a freight forwarding partner, and following on from this by asking which specific IT capabilities are the most important.
In the first instance, a 60% majority responded that IT was one of many factors in such a decision, whilst 36% stated that it was crucial. Only 2% asserted that IT was not critical, whilst 1% argued that it has become commoditised to the extent that it is no longer a differentiator. The remainder replied N/A.
As to which capabilities are seen as most important, visibility led the way with 32% of responses, with integration, interconnectivity and EDI second with 24%. Quotations, bookings and billing were seen as the most important by 8% of respondents, whilst 5% were most concerned with ease of use. No other category accounted for more than 4% of the total responses.
Take part in this month's survey: https://www.surveymonkey.co.uk/r/StifelJun16