"A good hockey player plays where the puck is. A great hockey player plays where the puck is going to be." – Wayne Gretzky
In this case quoted by Rick Desmarais of Johnson & Johnson Health Care Systems Inc. and also my similarity with LogiMed. Not that I'm an Ice-hockey player but I am a professional athlete and also playing hockey only not on ice. Desmarais quoted Gretzky in a panel discussion with heads of industry at LogiMed. I probably don't have to tell you that it was about vision and future developments. At the moment Desmarais quoted Gretzky, I felt a similarity. But first things first.
This year I am trying to get a spot in the Dutch Olympic hockey team. Although I'm fully focused on hockey, I jumped at a chance to join the LogiMed Congress. I've got a big interest in Logistics ever since my first internship at Samskip. The first thing that popped in my head was: What do I know about medical logistics? I remembered one lecture during my study specifically about the logistics of the Erasmus MC in Rotterdam, but that's about it. Do I need specific medical logistics knowledge to go to LogiMed? I don't think so. Logistics principles are applicable in many businesses and in many situations, so let's find out what is going on in the medical logistics arena.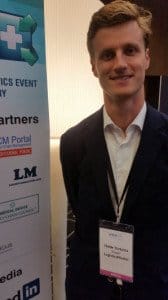 I had a coffee and went for the first session. I was only 5 minutes in and I remembered from my internships why you should be involved in the logistics environment for a while to understand what is going on. From the first sheet till the end of the congress, its full of abbreviations. Rusty as I was for a few minutes, I noticed that I was enjoying being out in the field again.
I really enjoyed the presentation of Jan Denecker of UPS. He started his presentation with healthcare trends and supply chain implications. Denecker spoke about future trends of delivering healthcare products with drones, automated vehicles and neighbor-to-neighbor logistics. The kind of things you only see in movies at the moment, but if we believe Denecker, soon in real life as well!
As the day moved on, the interaction between the participants was getting stronger. After some high quality networking it was time to move back to the main conference room again. A panel discussion started with, amongst others, Bjoern Neil Kircher of Paul Hartman. He started less than a year ago at the company and had a fresh view on the logistics of Paul Hartman. Where most of the participants had extensive experience in medical logistics, Kircher actually wasn't a medical logistics specialist, but he sure had some good insights of logistics in other markets, which he applied at Hartman.
Back to the panel discussion. At the moment Desmarais mentioned Gretzky my mind went into overdrive. Not only because the discussion took a deep dive into medical logistics, but because I started thinking of my profession again. I wondered; where is my puck going to be? It was time to go home. On the train back I thought of the conference and how nice it was to get in touch again with logistics professionals. When I finish my professional career in sports, I'm looking forward to battle for another spot, a spot in the world of logistics. But first I'm off to India to play the World Hockey League Final. Where will you play?
Hidde Turkstra is a professional field hockey player and logistics enthusiast. He became National Champion with his club H.C. Rotterdam in 2013. In that same year he was drafted for the Dutch national team for the first time and in 2015 they won the European Championship. He trains and plays full time with his club and the Dutch National Team and he aspires to be part of the Olympic Team that will compete in the 2016 Olympics in Rio. Hidde studied Commercial Economics at Hogeschool Rotterdam with a final thesis on Rotterdam Cool Port at ECT.
Hidde is Special Guest Blogger at LogisticsMatter.com