Each month the Georgia Center of Innovation for Logistics publishes a Logistics Market Snapshot with key Logistics and Supply Chain figures and statistics. Included are several Freight Indexes, Industrial Vacancy and Rent Rates and general economic indexes. Please find some statistics below, or click the image to download the full snapshot.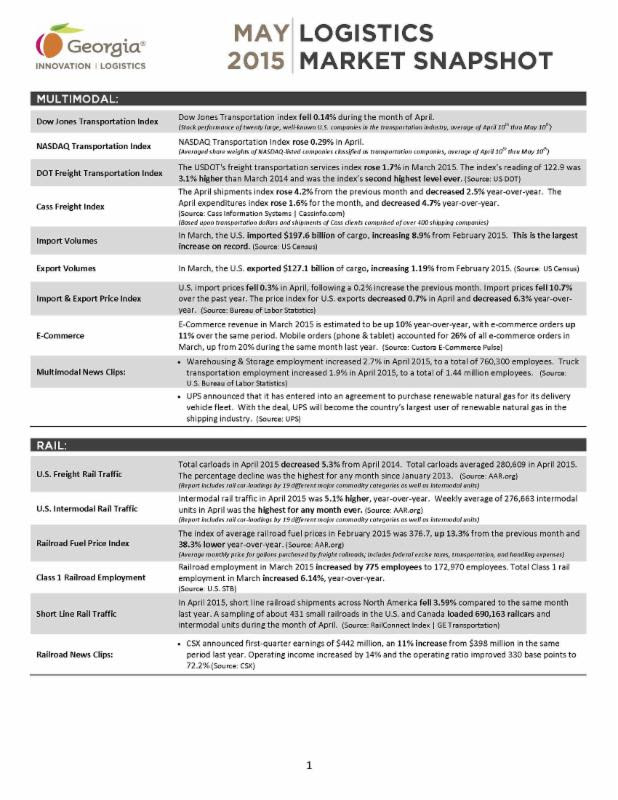 The USDOT's freight transportation services index rose 1.7% in March 2015.  The index's reading of 122.9 was 3.1% higher than March 2014 and was the index's second highest level ever. (Source: U.S. DOT)
In March, the U.S. imported $197.6 billion of cargo, increasing 8.9% from February 2015.  This is the largest increase on record. (Source:  US Census)
Intermodal traffic in April 2015 was 5.1% higher, year-over-year.  A weekly average of 276,663 intermodal units in April was the highest for any month ever.  (Source: AAR.org)
The U.S. average industrial vacancy ratefell for the 20th consecutive quarter to 7.1% in Q1 of 2015.  This is the lowest level in 14 years.  (Source: NGKF)
The Labor Department reported weekly applications for unemployment dropped 34,000 to 262,0000, the lowest level since April 2000.