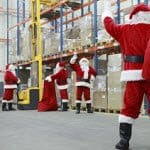 The Georgia Centre of Innovation for Logistics publishes their Logistics Market Snapshot each month, and each month I share the facts and figures they compile with you. As a special finale this year they have put together a special Logistics Market Snapshot with selected highlight concerning the Holiday Logistics. And some of these are absolutely staggering.
Just looking at the numbers that have appeared in the news about the two largest US parcel carriers UPS and FedEx, you can see what a huge challenge the holiday season is. And we have yet to see the end of it. The percentage of presents bought online and shipped to consumers will keep rising over the years to come. I have not yet seen a parcel carrier traffic jam in my street, but I wonder when the first time will be. Some facts that caught my eye on nytimes.com:
Both carriers have hired more workers for the year's end. UPS announced that it was hiring up to 95,000 seasonal workers, more than twice the number it employed last year. FedEx said it had hired 50,000 workers for the holidays.

And both say they have invested heavily in infrastructure. UPS said it spent $500 million on upgrades ahead of the holiday season, including prefabricated mobile delivery villages that expand existing shipping centers. And FedEx said it spent almost $2 billion on newer, more fuel-efficient planes and other upgrades to its air cargo network, in addition to almost $2.5 billion it dedicated to ground shipping over the last five years.

The Postal Service is also expecting double-digit growth this year: more than 470 million packages between Thanksgiving and Christmas Eve, up 12 percent from last year. SOURCE: nytimes.com
And these are just US numbers…
Please find the Holiday Logistics Snapshot below:
Click to View Snapshot
Atlanta-based United Parcel Service expects to deliver 34 million packages on Monday, the most delivered on a single day in the company's history. (Source: Atlanta Business Chronicle)
——————-
UPS
expects a record worldwide delivery volume this holiday season of more than
585 million packages
, an
11% increase
over 2013. The
United States Postal Service
expects to send
15.5 billion
cards, letters, and packages during the 2014 holiday season.
(Source: UPS 2014 earnings guidance)
——————-
Holiday sales are expected to increase 4%this year to $616.9 billion. Cyber Monday sales rose 8.5% making it the largest online shopping day in US history. At least 56% of consumers expect to do part of their holiday shopping online this year. (Source: National Retail Federation)
U.S. retailers are expected to hire between
725,000-800,000 seasonal workers
this holiday season with
Amazon
and
Macy's
each expecting
to hire at least 80,000 each
.
(Source: National Retail Federation)
——————-
98.6 million Americans will journey 50 miles or more from home during the holiday season and 91% of travelers will travel by automobile. (Source: AAA)