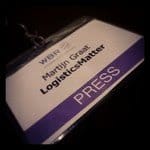 We were Media Partner to the LogiMed Conference in 2013, and are happy to announce that we will be a Media Partner for the 2014 conference as well. We can't visit all conferences that we partner with, but I have to say that LogiMed was among our favorites last year. I've met great people, listened to interesting speakers, had interesting conversations, and had great fun in the evenings as well :-). For those interested you can find my conference write-up here.
This year's event will take you to the Kempinski Hotel once more, but this year it's the one in Berlin.
The main conference days are October 7th and 8th, but the event starts off with a Focus Day on Strategy Optimization in Emerging Markets Day. Speakers from companies like St Jude Medical, Alere Internationl, and MedSC LLC will discuss various Logistics and Supply Chain topics, issues and business cases all related to Emerging Markets.
The main themes for main conference day 1 are Operational Excellence and Data Standards in the morning, and Supply Chain Visibility in the afternoon, with optional tracks on Supply Chain and Transportation in between. Some of the topics that peeked our interest:
Bringing supply chain to the Boardroom and back to Earth
Transforming the supply chain to meet the demands of a changing medical device market
How to increase efficiency in supply chains through consolidation of distribution centers and management of transport providers
What is the future of track and trace in the MedTech industry as a result of an increased need to enhance visibility?
As 3D printing sets to revolutionize the face of the healthcare industry, what are the implications for medical device
companies and their end-to-end supply chain?
The main themes for main conference day 2 are Supply Chain Optimization and Collaboration, and a focus on the Challenges of the Future. Some of the topics that peeked our interest:
How the changing mindset in healthcare systems is key to improving collaboration and results across the medical device supply chain
Creating an omni-channel logistics approach connecting OEM production through contracted point of care delivery services
Achieving supply chain excellence from a strategic 3PL partnership: a client case study presentation
Optimizing your logistics and distribution solutions to enhance your competitiveness in the global economy
Implementing vendor-hospital collaborative practices in the healthcare sector
Please join us in Berlin! You can find more information here. And when you are at LogiMed, send a tweet to @LogisticsMatter if you want to have a coffee and a chat.