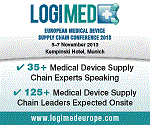 Each year we are media partner to great logistics and supply chain conferences and this year November is especially busy. For us the month will start with LogiMed, the Medical Device Supply Chain and Logistics Conference at the Kempinski Hotel in the center of Munich. It will be our first visit to LogiMed and I'm looking forward to it.
The main conference days are November 6th and 7th, but the event starts off with an Emerging Markets Day. Speakers from companies like Boston Scientific, Abbott Diagnostics, and Medtronic will discuss various Supply Chain topics, issues and business cases all related to Emerging Markets.
The theme for main conference day one is: Achieving Operational Excellence Locally and Globally. Some of the topics:
Proven Lean Processes To Achieve Efficiencies In Your Worldwide Supply Chain
Professionalising The Sales And Operations Planning Function To Improve Forecasting, Cost Control And Connection To Key Markets
Lessons Learnt Managing Global Supply To Improve Traceability And Enhance Visibility Along Your Supply Chain
How To Leverage Cost And Time Benefits Of Outsourcing Warehouse And Distribution Management As Part Of Your End-To-End Supply Chain Solution
The theme for main conference day two is: Focus on Medical Distribution, Logistics and Transportation. Some of the topics:
Practical Examples of How to Achieve Superior Relationships with Suppliers to Strengthen Your Global Supply Chain
How to Decide What to Do Internally and What to Outsource to Improve Cost Control and Improve Service Levels to Customers
How to Implement Better Supply Chain Replenishment Strategies Across Your Organisation
Logistics and Distribution Best Practice in EMEA
Please join us in Munich! You can find more information here. And when you are at LogiMed, send a tweet to @LogisticsMatter if you want to have a coffee and a chat.