LogisticsMatter is proud to be Media Partner of the 10th European 3PL Summit, which will be held in the Antwerp Hilton Hotel next week Monday through Wednesday. The event will start on October 22nd with an afternoon filled with two workshops: "Achieve a Demand Drive Supply Chain" and "3PL Selection & Contract Negotiation". Both are interesting, but I've decided to visit the 3PL workshop. After the workshops the winners of the 3PL Awards will be announced.
EyeforTransport is bringing us an interesting program for Tuesday and Wednesday as well. Sessions on "Opportunities & Threats for the 3PL Industry", 3PL Customer Case Studies, a Panel Session on Easing Pain Points in 3PL-Customer Relationships, Collaboration and finally the presentation on the 17th Annual 3rd Party Logistics Global Study. There is too much going on to list all, and I'm not even mentioning sessions from the Chief Supply Chain Officer Forum which visitors of the 3PL Summit can visit as well on Tuesday.
LogisticsMatter will be tweeting and blogging live from the summit. See @LogisticsMatter on Twitter, or visit LogisticsMatter.com to read all about it.
If you want to meet up for a coffee and a chat, send a tweet to @LogisticsMatter, or an e-mail to martijn@logisticsmatter.com.
Read more about the event here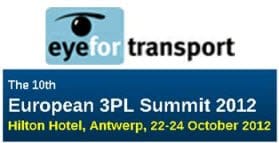 NEXT BLOG POST – 3PL Summit Day One – Horizontal Collaboration
PREVIOUS BLOG POST – Sales & Operations Planning Summit